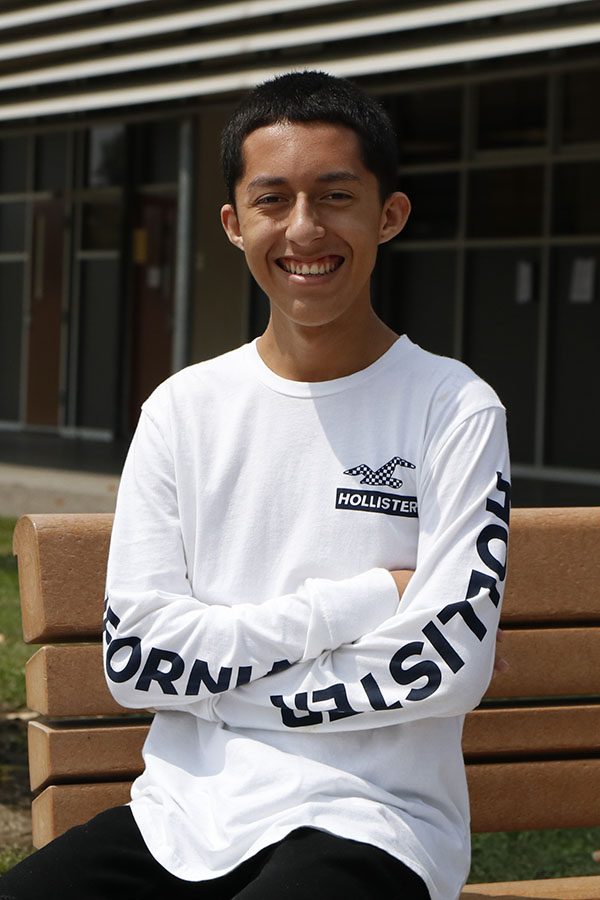 Name:
Donavin Collins
Position:
Entertainment Editor
Favorite Subject:
The Mathematics
Fun Fact:
I am one of the dumbest, but also one of the smartest people you will ever meet on this planet. (Great minds must think alike since KG and I put the same thing)
Favorite Movie and Song:
The one where...oh I forgot that I'm legally blind and deaf, oops.
Hobbies:
I'm a real mean wrestling stat keeper. I can also bet you that I'll beat you, and probably anyone living in this universe, at a staring contest. Go ahead, challenge me just so you can embarrass yourself.
What journalism means to me:
Journalism is probably one of the only reasons I go to school. It's fun or whatever, but the real pleasure of it is making fun of Angel's attempts to be a better writer than me. This class has taught me how to manage my time instead of procrastinating, especially since you don't want to have nothing done when King Bott asks how your story is going.
Goals on staff and after high school:
This year, I'm going to take the crown of being the best mentor anyone could ask for. In fact, Monze and I are already best friends. The entertainment page is also always going to look good, it may as well be called perfection. After high school, I'm going to hopefully attend my dream school UCLA.
Donavin Collins, Entertainment Editor
May 17, 2019

YouTubers aren't celebrities

(Story)

May 13, 2019

Twitter provides better quality content

(Story)

Apr 05, 2019

The sinister side of 'Us' is explored

(Story)

Apr 03, 2019

FREDERICK SHADDAI: Sport offers unique aspects

(Story)

Mar 12, 2019

High school isn't too hard

(Story)

Mar 01, 2019
Mar 01, 2019

MESA aims to prevail again

(Story)

Feb 25, 2019

Why celebrity relationships don't last

(Story)

Feb 04, 2019

Ted Bundy thriller should be praised for bold decision

(Story)

Feb 01, 2019

Diverse casts in Hollywood

(Story)

Jan 23, 2019

JASMINE KHAN: Wrestling provides growth in physical and mental stength

(Story)

Dec 14, 2018

Rewards given monthly will work better

(Story)

Nov 14, 2018

ESTEBAN RIVERA: Longtime player cherishes final year

(Story)

Nov 09, 2018
Nov 09, 2018

Rebooted TV shows result in mixed opinions from fans

(Story)

Nov 09, 2018

Social media becoming unthankful for Thanksgiving

(Story)

Oct 23, 2018

'Halloween' scares up an impressive audience

(Story)

Oct 05, 2018

College and scholarship applications pile up

(Story)

Oct 03, 2018

The undefeated become defeated

(Story/Media)

Oct 03, 2018

MALIA CHRISTIANO: Becoming a mentor to other players

(Story/Media)

Sep 26, 2018

America needs more than just talent

(Story)

Sep 07, 2018

Gender doesn't hinder decision

(Story)

Aug 29, 2018

JAMES FENNER: Water polo used as a way of expressing emotions

(Story)

Aug 25, 2018

VMAs bring the drama to the stage

(Story)

May 24, 2018

'13 Reasons Why' found guilty of disappointing fans

(Story)

May 18, 2018

'Riverdale' manages to stay successful as a series

(Story)

May 18, 2018

'Infinity War' exceeds expectations

(Story)

May 15, 2018

Summer blockbusters expected to bring hype

(Story)

Apr 18, 2018

KEVIN PHAN: Salutatorian manages school and sports

(Story)

Mar 19, 2018

Long awaited sequel ultimately disappoints

(Story)

Mar 02, 2018

Black Panther claws its way to the top

(Story)

Mar 01, 2018

Take a stand against guns

(Story)

Feb 07, 2018

Super Bowl commercials take the spotlight

(Story)

Feb 02, 2018

Phillips recalls his time at Olympics

(Story/Media)

Jan 31, 2018

Two minutes till midnight

(Story)

Jan 26, 2018

Tide Pods, it's not food it's detergent

(Story)

Jan 03, 2018

Sex sells and tv shows buy

(Story)

Dec 14, 2017

Stagg hosts Super Smash Bros. tournament

(Story/Media)

Dec 12, 2017

Will Hero system work for our high school?

(Story)

Dec 06, 2017

New Avengers trailer brings excitement

(Story)

Nov 21, 2017

'Justice League' amazes, but also slightly fails

(Story)

Nov 09, 2017

'Thor: Ragnarok' stands out among Thor movies

(Story)

Oct 06, 2017

Horror films leave a bitter aftertaste on daily life

(Story)

Oct 02, 2017

Taking initiative to bring back off campus passes

(Story)

Sep 28, 2017

Student witnesses Hurricane Harvey

(Story)

Sep 01, 2017

VMA's entertain, but also disappoint

(Story)