Rewards given monthly will work better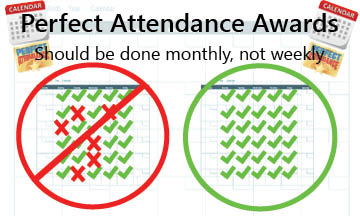 Week after week, more announcements are made rewarding students for perfect attendance. Seemingly new this year, different items such as bags, popsockets, and gift cards are given to students. Is it really worth it to reward students for having perfect attendance for just one week?
Well in short, the answer is no. Sure it would make sense if it was for one month, but for one week it's just too short of a time. We can't applaud a student for actually coming to school. It's what they're supposed to be doing anyways.
Even in one of my classes, a student who has missed a good amount of days won the reward over students who haven't missed a single day. Changing it from one week to one month of perfect attendance will be able to create a smaller pool students that are eligible for the reward, ultimately reaching more students who are more deserving.
Also, if it was changed to one month, rewards would be able to be better. Instead of giving students a cheap popsocket, they can give them a gift card. Instead of giving students free nachos, they can buy a whole bunch of pizza for all winners of the raffle.
In the end, there's not one but at least two big reasons to make this change. It'll actually teach students to want to come to school instead of rewarding them for unintentionally having perfect attendance for the week. It'll also help to make the prizes better and more worth having perfect attendance.
Leave a Comment