Summer blockbusters expected to bring hype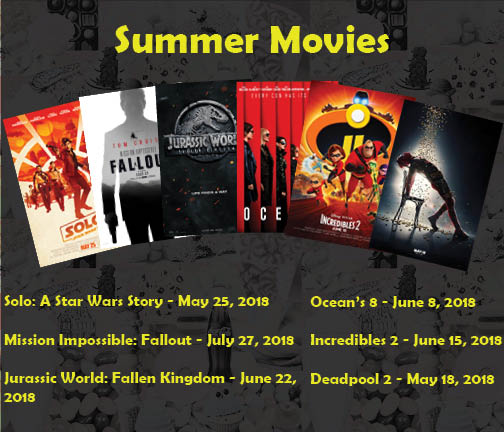 The scorching heat, the trips to the beaches, the air conditioning running all day long, and last, but certainly not least, the weekly visits to the movie theaters.
With summer right around the corner, one of the most common activities teens partake in is go watch movies together. Especially with the amount of blockbusters that come out in the summer, it's a must.
Every single summer, there's always a handful of movies that almost everyone is looking forward to. It's those movies that bring the hype to the summer vibes.
Last year, a few of those movies happened to be "Spider-Man: Homecoming," "Wonder Woman," and "Dunkirk." And year after year, the movies always succeed in making the summer better.
This year, there's much more than just a handful of movies waiting to be released. Those movies include "Deadpool 2," "Incredibles 2," "Jurassic World: Fallen Kingdom," "Mission: Impossible – Fallout," "Ocean's 8," "Solo: A Star Wars Story," and many more.
With this huge of a variety of movies, there's bound to a movie for every type of audience. You can't have a summer blockbuster list without a couple of superhero movies. "Avengers: Infinity War," which just released, has set the bar for these movies very, very high. However, if any movie can meet the hype, it'll certainly be the sequel to "Deadpool."
Worth every dollar and penny spent, going to the movies is worth the memories people make. There's laughs, there's scares, and there's memories that will always be remembered. You also get the chance to experience and watch a good movie that'll leave you at the edge of your seat. The trips to the movie theaters are what makes summer even more exciting and fun.
Leave a Comment