College and scholarship applications pile up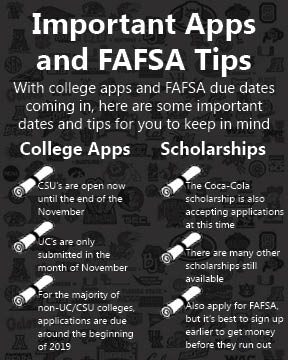 It's officially, and actually already has been, the college application season. The applications for colleges and scholarships are in the process of being filled out; school counselors are pushing students to finish strong and have a plan for life after high school. This may seem like a stressful time, but after this it's almost a breeze for many.
What students may not know is the applications for colleges and scholarships do have their deadlines, bringing stress to those who miss them. In fact, the Gates Scholarship recently closed on September 18th. For students who missed out on the opportunity, they have to now find a different scholarship to apply for.
Opened earlier this week on the first day of October, the FAFSA is ready for all students to start applying. The sooner the student applies, the less stress and more money they can get. Closing on the last day of October, the Coca-Cola scholarship is also accepting applications from students at this time.
Without a place to go to college, however, these scholarships and financial aid are quite useless. Two of the most popular college education systems in California, CSU's and UC's, are also currently allowing students to fill out their applications. The submission period for CSU's is from now until the end of the November, whereas for UC's it's just the month of November. For the majority of non-UC/CSU colleges, applications are due around the beginning of 2019.
Although it may seem like a lot of work, it is much smarter to start on applications earlier rather than late. An application done late may seem too rushed, decreasing chances of winning a scholarship or getting accepted into a certain college. There are essays to do and if it seemed too bland or rushed, it would not leave a good impression on the college.
After application submissions, responses from scholarships and colleges are received between the months of March and May.
Leave a Comment