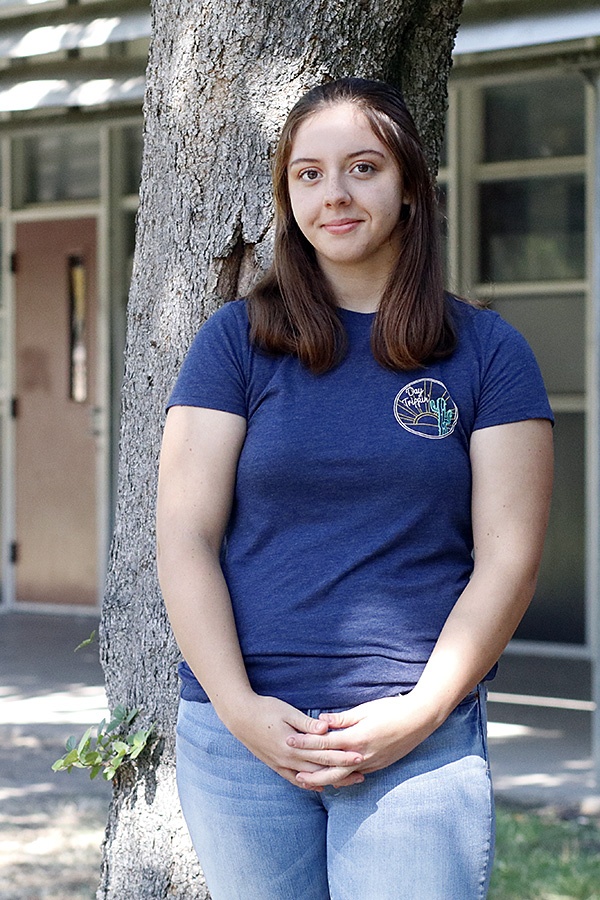 Position:
 2017-2018 News Editor
Nickname(s):
Anhel
Fun Fact:
I know how to play piano
Hobbies:
Wrestling, baking, buying new plants
Why I joined journalism and what it means to me:
I joined journalism because I love to write. I enjoy listening to the interesting stories that people have to share, and above that I like writing them for everyone to read. To be in journalism is a privilege. It is a wonderful program and I am thankful that I am able to be apart of it.
Goals on staff and after high school:
After high school I know for sure that I want to go to college, but I don't know which one honestly. I plan to major in English and hopefully become an English teacher.
Angel Vasquez, News Editor
May 16, 2019

Cafeteria under renovation, students left to eat in The Spot

(Story)

May 08, 2019

KIMBERLY SOM: Hard work pays off

(Story)

Apr 10, 2019

JOSEPH MALLET: Swimming for the experience, passion

(Story)

Apr 05, 2019

Ranting isn't healthy

(Story)

Mar 14, 2019

Good intentions fall short of actually being good

(Story)

Feb 27, 2019

JAMES CHOM: Anime encouraged him to play

(Story)

Feb 01, 2019

Diverse casts in Hollywood

(Story)

Dec 20, 2018

Early Domestic Abuse Signs

(Story)

Dec 12, 2018

SARAH JOHNSON: Second year wrestling helps in more ways than one

(Media)

Nov 30, 2018

WEEKLY GALLERY: Stagg's Wrestling Team Takes Victory

(Media)

Nov 28, 2018

ARIANA RAYGOZA: Taekwondo helps self esteem and athletic ability

(Story)

Nov 09, 2018

Modern day feminism leaves behind original ideals

(Story)

Nov 09, 2018
Oct 25, 2018

The importance of unconventional beauty in the media

(Story)

Oct 04, 2018

Steven Universe fell off, not worthy of its hype anymore

(Story)

Sep 28, 2018

WEEKLY GALLERY: Stagg Boys Water Polo VS. Edison

(Story/Media)

Sep 26, 2018

KEITH SMITH: Having fun in football

(Story)

Sep 10, 2018

Getting 'inside water' to lead

(Story)

Sep 07, 2018

Women should not be viewed as caretakers

(Story)

Sep 05, 2018

KARIS CARTER: Volleyball used as an outlet

(Media)

Aug 22, 2018

AMYA THAVIXAY: From Dance to Cheer

(Story)

Aug 16, 2018

Rewards for the bare minimum

(Story)

May 23, 2018

Kids should be disciplined

(Story)

May 18, 2018

Health matters most

(Story)

May 17, 2018

ROMAN AMEPEROSA: Follows in father's footsteps

(Media)

May 14, 2018

Those showing cultural appreciation should not be judged

(Story)

May 03, 2018

DE'LILAH VEGA: Putting the bat away

(Story)

Mar 23, 2018

Uneducated Criticism

(Story)

Mar 16, 2018

WEEKLY GALLERY: SAT Prep class

(Story)

Feb 28, 2018

Teachers should be evaluated

(Story)

Feb 07, 2018

RIN LE: Looking forward for what's to come

(Story/Media)

Jan 03, 2018

Sex sells and tv shows buy

(Story)

Dec 27, 2017

Presents take the fun out of the Holidays

(Story)

Dec 14, 2017

Stagg hosts Super Smash Bros. tournament

(Story/Media)

Dec 12, 2017

Lack of gun control puts everyone in danger

(Story)

Nov 09, 2017

Getting to kick down under

(Story)

Nov 03, 2017

Social media isn't as bad as potrayed

(Story)

Oct 18, 2017

JENNY YU: Taking a swing at success

(Story)

Oct 17, 2017

Following the crowd isn't a bad thing

(Story)

Oct 06, 2017

Rape culture can be stopped

(Story)

Oct 06, 2017

Rape culture can be stopped

(Story)

Oct 06, 2017

Cross country hoping to take league title

(Story)

Oct 05, 2017

Rape culture shouldn't be taken lightly

(Story)

Oct 02, 2017

Taking initiative to bring back off campus passes

(Story)

Sep 06, 2017

DEZMOND RODRIGUEZ: Gaining a starting position

(Story)

Sep 01, 2017

WEEKLY GALLERY: Back to school night

(Story)

Aug 21, 2017

Catcalling—it's actually quite flattering

(Story)

May 12, 2017

WEEKLY GALLERY: Art Class Brushes Up On Their Projects

(Story)

Apr 19, 2017

GINA MANGILI: A passion for swimming

(Story/Media)

Apr 11, 2017

Pepsi was insensitive, so what?

(Story)

Mar 15, 2017

CYVANNA BOWEN: Running after scholarships

(Story)

Feb 28, 2017

Trump's obvious tantrum is against our constitution

(Story)

Feb 22, 2017

AMANDA MUNOZ: A passion for swimming

(Story)

Feb 03, 2017

Khan learns to wrestle with injuries

(Media)

Jan 08, 2017

We need better gun control

(Story)

Dec 09, 2016

Trump's messy cabinet

(Story)

Nov 10, 2016

Medication Abortion Rights

(Story)

Nov 09, 2016

Enekyo Sakata: An Undeniable Passion

(Story)

Oct 20, 2016

Schumer has rights to express opinion through comedic platform

(Story)

Oct 07, 2016

Local events to enjoy

(Story)

Sep 30, 2016

NICHOLAS ROSETE: Playing soccer becomes his goal

(Story/Media)

Sep 14, 2016

Online interaction new to language classes

(Story)

May 20, 2016

Male body positivity deserves more attention

(Story)