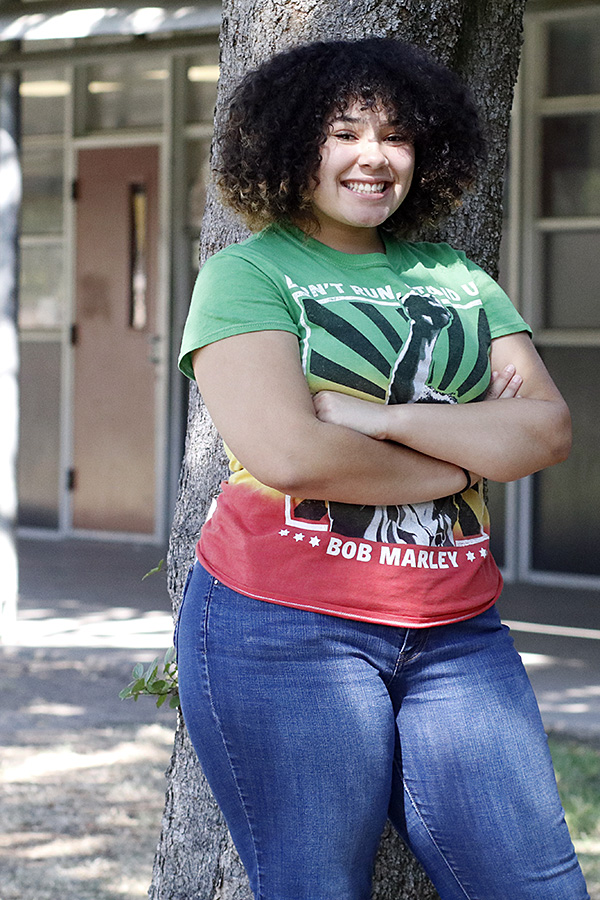 Position:
Reporter
Nickname(s):
Olee, Pembly
Fun Fact:
I'm a Pisces
Hobbies:
playing the cello,doing makeup, arts and crafts, and writing
Why I joined journalism and what it means to me:
I have always had a passion for writing and learning new things, so after reading several of the issues from Stagg Line, I got inspired to go further and take the class of Graphic Design last year. After being in the class, I had the desire to take the techniques and skills I learned and do them good use by partaking journalism. Although I am a newbie it is already my favorite period of the day, and I take pride in being involved in it with such a great group of people.
Goals on staff and after high school:
I plan to accomplish bettering my writing, and my photography skills and techniques while on staff. After high school I would like to attend college and major in psychology.  Soon after gaining experience with other psychologists my plan is to start my own practice and work with children.
Oleedia Pemble Harris, Reporter
May 10, 2019

New programs help improve the district

(Media)

May 10, 2019

Stop pretending that reverse racism exists

(Story)

May 01, 2019

TRESTON DESHIELDS: Overcoming doubt to accomplish more

(Story)

Apr 05, 2019

Love, Death & Robots

(Story)

Apr 05, 2019

Is it just dark humor?

(Story)

Mar 27, 2019

KRISTINA MATSUMOTO: Academically inspired to play badminton

(Story)

Mar 15, 2019

Minions deserve more appreciation

(Story)

Mar 01, 2019

Wrong figures worshipped

(Story)

Feb 01, 2019

Body art in the workplace can be seen as barrier

(Story)

Nov 09, 2018

Gender Neutral Fashion

(Story)

Nov 09, 2018

Victoria's Secret needs to include plus size models

(Story)

Oct 30, 2018

Religions don't deserve special treatment

(Story)

Oct 24, 2018

CHEYANNE GAINES: Life skills taught through volleyball

(Story)

Oct 05, 2018

Web restrictions are just too strict

(Story)

Oct 05, 2018

The Big Bang Theory: The best show on the planet

(Story)

Oct 05, 2018

Anxiety doesn't have to limit you

(Story)

Oct 05, 2018

Disney classics overshadow newer shows

(Story)

Sep 07, 2018

'Sharknado' takes its final bite as a movie franchise

(Story)

Sep 06, 2018

Colorism in the Black Community

(Story/Media)

Sep 05, 2018

KARIS CARTER: Volleyball used as an outlet

(Story)

Aug 17, 2018

Normalize the nipple

(Story)

May 24, 2018

'13 Reasons Why' found guilty of disappointing fans

(Story)

May 18, 2018

Breaking boundaries

(Story)

May 10, 2018

Google Clips: Is it a step in the right direction?

(Story)

May 04, 2018

Kanye is using his platform destructively

(Story)

Apr 11, 2018

The classifications of Love

(Story)

Apr 11, 2018

MENA TORRES: Quality strategies help improve performance

(Story)

Mar 02, 2018

Partners should be chosen for qualities

(Story)

Mar 02, 2018

Finding inspiration from famous women

(Story)

Jan 31, 2018

VALENCIA FLORES: Passion for cheer inspired by sister

(Story)

Jan 31, 2018

Two minutes till midnight

(Story)

Jan 26, 2018

Milk and Vine: Legendary Vines Make Great Quotes

(Story)

Jan 09, 2018

H&M: Insensitive Marketing Stratagies

(Story)

Jan 05, 2018
Nov 29, 2017

Soul Train Awards: Winners

(Story)

Nov 06, 2017

Disney's first LGBTQ storyline

(Story)

Oct 24, 2017

MALIA CHRISTIANO: Swim inspires water polo

(Story)

Oct 06, 2017

Cam Newton's sexist comment

(Story)

Oct 02, 2017

Las Vegas terrorist attack

(Story)

Sep 20, 2017

KAYLEE FETTERS: From hobby to way of life

(Story)