Finding inspiration from famous women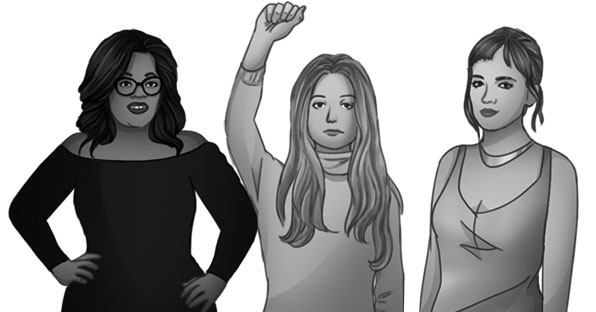 The women who were able to achieve the once impossible. The women who have made an impact on the world. The women who inspire others to do their best, and are now looked up to as role models. Those are the women being celebrated during Women's History Month.
For some, those inspirational women happen to be celebrities. Oprah Winfrey is known all over the world for being a talk show host, producer and philanthropist. However, sophomore Alanah Grisby believes Winfrey is much more than that. "Oprah is such a positive role model for me," she said. "She is an inspiration. She is black excellence."
Grisby referred back to her grandmother positively talking to her about Winfrey since she was younger. "She always talked about Oprah being such a good thing to see on TV since there wasn't that many black people in entertainment. The fact that she is a female is the cherry on top."
Inspired, Grisby likes to follow Winfrey and her organizations. "I like seeing all the good she does for people. Seeing that she came up from nothing and now is giving back to people less fortunate is awesome."
Junior Sophia Peck was first introduced to her role model, Gloria Steinem, last year in her World History class. After reading about Steinem's work in feminism and politics, Peck became inspired. "Steinem worked hard for what she believed in while passing scrutiny from so many other people."
Like Steinem, Peck's also a feminist and plans on being involved in politics in the future. "She made sure to follow through for what she believed," Peck said. "She helped pave the way for women everywhere." Peck says she'll make sure to follow the path she believes is right for herself.
It's not only women who look up to other women, as junior Jacob Stillwell also believes Women's History Month is a great way to celebrate those who made an impact on people's lives. One woman who is an idol to him happens to be actress Emma Watson. "She stands out as one of the most known feminist-celebrities."
He found out about Watson's contributions to the world after reading an article in the Washington Post about her. He admires the way she supports children and equal rights. "I first read an article about Emma Watson and found out she was very devoted to feminism. It persuaded me to start following her actions and movements."
Stillwell said he also likes how Watson shares, and even protests her beliefs, in an intelligent way. "She demonstrates that speaking with intelligence is key when fighting for your beliefs and I really respect that." That is something he wishes to follow, as intelligence is a key element to him.
There are many more women who've helped pave the way for the generations. They inspire people to push past their limits. Thus, it's only fitting that their accomplishments and characters are celebrated this month. Without them, the world would be very different today.