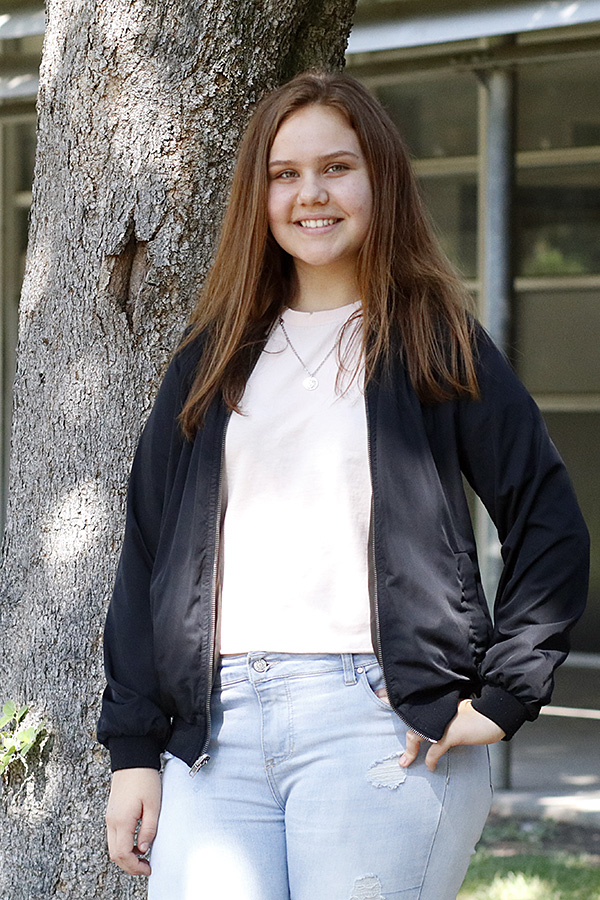 Position:
Reporter
Nickname(s):
kannon
Fun Fact:
I'm the youngest on staff, and I'm super shy.
Hobbies:
Writing & photography
Why I joined journalism and what it means to me:
My plan wasn't journalism when I started high school. My english teacher directed me into this path and I'm glad he did because I feel like newspaper is going to be a good opportunity for me. Journalism is something I value because it causes me to look outside of what I'm used to and get different opinions from different people.
Goals on staff and after high school:
My goals on staff is to become a better writer and have better skills in group exercises such as collaborating with people I don't usually talk to. After high school I want to attend a four year college in the Bay Area or Southern California. My dream is to become a journalist or a psychologist.
Shannon Bradberry, Reporter
May 16, 2019

Cafeteria under renovation, students left to eat in The Spot

(Story)

May 07, 2019

Sibling rivalry yields on-court success

(Story)

Apr 24, 2019

KASSIDY CHHOUNGSUN: Improving Performance

(Story)

Apr 05, 2019

Losing a sibiling

(Story)

Mar 11, 2019
Feb 04, 2019

Neglected Program seeks more funding

(Story)

Feb 01, 2019

Neglected program seeks more funding

(Story)

Jan 30, 2019

MATTHEW BROCK: Looking On the Bright Side

(Story)

Dec 05, 2018

JOSE PEREZ: Life Lessons Taught Through Soccer

(Story)

Nov 09, 2018

Gender Neutral Fashion

(Story)

Nov 08, 2018

Bohemian Rhapsody: Review

(Story)

Oct 17, 2018

Emanuel Anderson: Improving Performance

(Story)

Oct 04, 2018

Class Size Matters

(Story)

Oct 04, 2018
Oct 04, 2018

Steven Universe fell off, not worthy of its hype anymore

(Story)

Sep 10, 2018

Getting 'inside water' to lead

(Story)

Aug 15, 2018

GREGARIO PICHARDO: Chasing a Dream

(Story)

Apr 25, 2018

TRAVIS JARVIS: Learned dedication

(Story)

Apr 25, 2018
Apr 18, 2018

Stockton Murals

(Story/Media)

Mar 02, 2018

Senior reflects on her love of basketball

(Story)

Mar 02, 2018

AP classes worth challenge

(Story)

Feb 22, 2018

REVIEW: Black Panther Soundtrack

(Story)

Feb 08, 2018

Senior Night; Dominik Cross

(Story)

Nov 29, 2017

Laying down the puck

(Story)

Nov 09, 2017

Unity Day kicks off Red Ribbon Week

(Story)

Nov 03, 2017

PLUS and ASB host Halloween activities

(Story)

Oct 06, 2017
Oct 04, 2017

JESSE MEERMANN: Finding strength through experience

(Story)