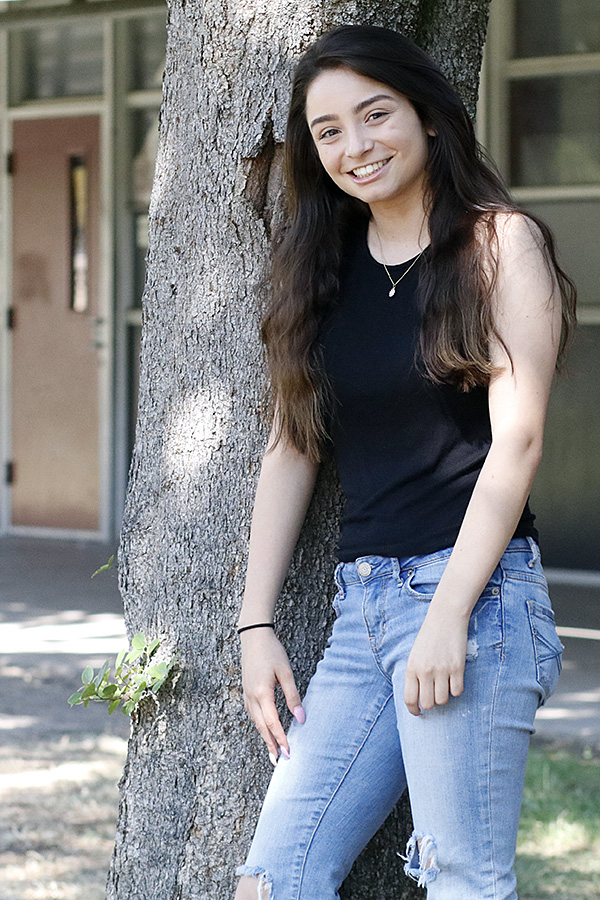 Position:
2017-2018 Sports Editor
Nickname(s):
Castiyooooo, egg
Fun Fact:
I love the beach, the color yellow, and ketchup!!
Hobbies:
Listen to music, watch novelas with my mom, play with my dogs, and hang out with friends.
Why I joined journalism and what it means to me:
Freshman year I signed up for journalism one, but I got put into the graphic design and photography class. In that class I found an interest in design and taking pictures. Later I learned that in journalism you could write, design, and take pictures so then I knew that I wanted to be part of the Stagg Line. :)
Goals on staff and after high school:
My goals on staff are to keep expanding my knowledge in writing and everything that comes with journalism. I also seek to help out with anything and everything I can. After high school I hope to attend UCSD and live a happy life.
Maria Castillo, Sports Editor
May 13, 2019

JACOB STILLWELL: Stagg experience teaches lessons

(Media)

May 10, 2019

Special Olympics a success

(Media)

May 10, 2019

IMAGINE STOCKTON

(Story/Media)

Apr 08, 2019

KAYLAN DARANIKONE: More preparation for SBAC testing

(Story/Media)

Apr 05, 2019

Fatal consequences

(Story)

Apr 03, 2019

FREDERICK SHADDAI: Sport offers unique aspects

(Media)

Mar 07, 2019

Stagg holds an Every 15 Minutes presentation

(Media)

Mar 01, 2019

Youth gives hope to Delta Kings golf program

(Media)

Mar 01, 2019
Mar 01, 2019
Mar 01, 2019
Mar 01, 2019

Agricultural program starts to grow

(Media)

Feb 18, 2019

JOSEPH LOGAN: Video games are a way to connect to the community

(Media)

Feb 11, 2019

Learning languages aids communications skills

(Story)

Feb 01, 2019

Junior develops a love for alligators

(Media)

Jan 22, 2019

Winter Essientials

(Media)

Oct 31, 2018

ANDREA RAMIREZ: Unexpected interest

(Story/Media)

Oct 15, 2018

CHARNAYA STEWART: Different type of hobby

(Story/Media)

Oct 05, 2018

Web restrictions are just too strict

(Media)

Oct 05, 2018

Disney classics overshadow newer shows

(Story)

Sep 07, 2018

From classroom to curriculum office

(Story)

Sep 06, 2018

Isaiah Martinez doesn't mind level change

(Story/Media)

Aug 22, 2018

JOSIE RUSSELL: Natural dancer

(Story)

May 18, 2018

Cinco de Mayo fiesta

(Media)

May 07, 2018

CHEYANNE GAINES: Rolling ankle causes fear of basketball career ending

(Story/Media)

Apr 13, 2018

Summer league swim program helps Lornson

(Media)

Apr 13, 2018

Trips are worth saving money

(Story)

Apr 13, 2018

MESA's work pays off

(Media)

Apr 11, 2018

MENA TORRES: Quality strategies help improve performance

(Media)

Mar 12, 2018

Stagg Sings charity concert

(Story/Media)

Mar 05, 2018

STEVEN ANDRADE: K-pop is an outlet for self expression

(Media)

Mar 02, 2018

Partners should be chosen for qualities

(Media)

Feb 02, 2018

Phillips recalls his time at Olympics

(Media)

Jan 29, 2018

JOSEPH MALLETT: Being moved to first violin requires more practice

(Media)

Jan 11, 2018

'Jurassic World: Fallen Kingdom' trailer holds promise

(Story)

Jan 09, 2018

New Years unites culture

(Media)

Dec 12, 2017
Dec 06, 2017

New Avengers trailer brings excitement

(Media)

Nov 09, 2017

Colorful for a cause

(Media)

Nov 09, 2017

Drawing is a form of expression

(Story/Media)

Oct 16, 2017

SOFIA GARCIA: Tamale Festival brings community together

(Story/Media)

Oct 06, 2017

Pet bird is a great companion for Lugo

(Story)

Sep 08, 2017

Solar eclipse enlightens students

(Media)

Sep 08, 2017

Closed campus dissapoints

(Story)

Sep 01, 2017

WEEKLY GALLERY: Back to school night

(Story)

Aug 21, 2017

KEIMORA ARMSTRONG: From watching cartoons to drawing cartoons

(Story)

May 15, 2017

Teammates take the lead in track

(Story)

May 12, 2017

Vaccines: the unknown importance

(Story)

May 01, 2017

MONZERRATH MARTINEZ: Spanish project helps connect with culture

(Story)

Mar 29, 2017

ALONDRA RUBALCABA: Spring break enjoyed at Six Flags

(Story)

Mar 13, 2017

MATIAS SAUCEDO: Grandpa inspires passion for guitar

(Story)

Feb 28, 2017

Sexual abuse on senior citizens is repulsive

(Story)

Feb 03, 2017

'Split' reaction for new horror flick with rather revealing trailer

(Story)

Jan 25, 2017

AIDAN DANFORTH: Fighting through the pain

(Story)

Dec 13, 2016

SERINA SIENG: Looking forward to Christmas break

(Story)

Nov 09, 2016

Williams achieves spike in passion through volleyball

(Media)

Nov 03, 2016

VERONICA FLORES: Racing through first cross country season

(Story)

Oct 25, 2016

DESTINY ALLEN: Capturing The Design

(Story)

Oct 05, 2016

MARIELE JONES: Fought her way to the top

(Media)

Sep 30, 2016

WEEKLY GALLERY: Diffusion lab

(Story/Media)

Aug 25, 2016

PERLA GONZALEZ: Bracing herself for senior year

(Media)

Mar 18, 2016

WEEKLY GALLERY: GDP students capture campus

(Media)