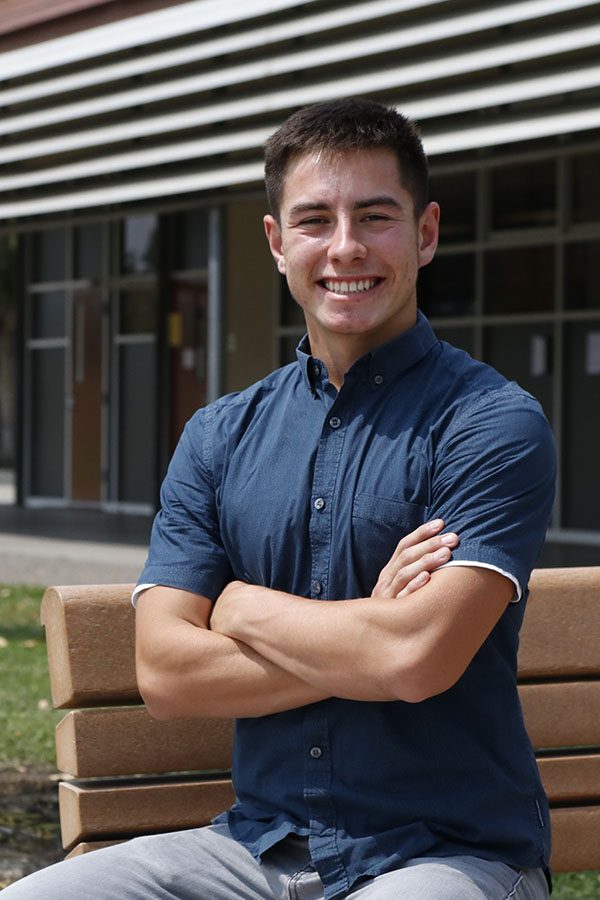 Name:
Aidan Danforth
Position:
Online Editor
Favorite Subject:
American History
Fun Fact:
I'm originally from Hawaii.
Favorite Movie and Song:
My favorite movie is "The Interview" by Seth Rogen and Evan Goldberg. My favorite song is "Holding on to you" by Twenty One Pilots.  
Hobbies:
I play sports such as wrestling and swim. I also enjoy going out for coffee.
What journalism means to me:
I was introduced to journalism by my brother. Joining the class my junior year I struggled. Writing stories and producing videos was something that I wanted to learn how to do and be better at. Mentors and other members of the staff helped me out throughout the year. They weren't afraid to highlight my mistakes and encouraged me when I need it. Journalism is more than conducting and interview or working Photoshop. Journalism has taught me how truly to work with others. The Stagg Line is an accepting class that has made me a better student.
Goals on staff and after high school:
As my English teacher and Journalism adviser knows, I am a conflicted writer. I struggle with writing, and skills needed for Journalism. This year I want to improve my writing. I want to produce better quality work, highlighting my devotion and passion for the class. I want to also help out my mentee Yalie Ceesay. After high school I plan on attending the Naval Academy in Annapolis, Maryland.
Aidan Danforth, Online Editor
May 13, 2019

Stockton Schools Initiative

(Story/Media)

May 13, 2019

CARLOS HERNANDES: Lunch as usual

(Story/Media)

May 10, 2019
Apr 05, 2019

Is it just dark humor?

(Media)

Mar 28, 2019

Unfair levels in high school competition

(Story)

Mar 12, 2019

ENEKEYO SAKATA: An arrestee's perspective

(Story/Media)

Feb 28, 2019

Resident Evil 2 Haunts

(Story)

Feb 12, 2019

Whats in your teacher's closet?

(Story/Media)

Feb 04, 2019

Neglected Program seeks more funding

(Media)

Feb 03, 2019

Parent awarnes is needed online

(Story/Media)

Feb 01, 2019

'Glass' breaks movie standards

(Story)

Jan 16, 2019

Seniors develop propositions to create change

(Media)

Jan 16, 2019

Short in height, not of talent

(Media)

Dec 12, 2018

Stolen car crashes into west fence

(Story)

Dec 05, 2018

JOSE PEREZ: Life Lessons Taught Through Soccer

(Media)

Nov 08, 2018

CAITLYNN COLEN: Drawling characters writing stories

(Story/Media)

Oct 29, 2018

YouTube star becomes a rising sensation

(Story)

Sep 18, 2018

MICHAEL ESCOBAR: Point break brings comfort

(Story/Media)

Sep 07, 2018

People need to be mindful about what they post

(Story)

Sep 04, 2018

Hashing out household chores

(Story/Media)

Aug 13, 2018

JULIAN VERELAS: Happy accident

(Story/Media)

May 18, 2018

Back-to-back champions

(Media)

May 04, 2018

WEEKLY GALLERY: Stagg students attend WACAC college fair

(Story/Media)

Apr 30, 2018

LUIS MORENO: SEED gives summer opportunity

(Story/Media)

Apr 29, 2018

Immerse yourself into Ready Player One

(Story)

Apr 13, 2018

Writers learn to express emotions with poetry

(Media)

Mar 13, 2018

Snow boarding club attends Squaw Valley Ski Resort

(Story/Media)

Mar 12, 2018

ROBERT UVALLES: Gaming sparks a new dream

(Story)

Mar 02, 2018

AP classes worth challenge

(Media)

Feb 26, 2018

MARITSA NUN: Protesting of Stagg

(Story)

Feb 02, 2018

Legal pot is a mistake

(Media)

Feb 02, 2018

Scholarship program to open doors

(Media)

Jan 22, 2018

ALEX I'AULUALO: Continuous conditioning

(Story/Media)

Jan 11, 2018

'Jurassic World: Fallen Kingdom' trailer holds promise

(Story)

Jan 05, 2018

Math students become math teachers

(Story/Media)

Dec 12, 2017

Mass shootings spark gun debate

(Media)

Nov 09, 2017

'Stranger Things' fans are left wanting more

(Story)

Nov 09, 2017

Grant kickstarts band program

(Story)

Nov 06, 2017

JAKE MARCELINO: Skilled kendama playing

(Story/Media)

Oct 06, 2017

Celebrities' actions make them a bad influence on teenagers

(Media)

Oct 02, 2017

EMILY WATTERSON: Moving from Oregon to California

(Story)

Sep 21, 2017

Pewdiepie's racist actions finally coming to light

(Media)

Sep 08, 2017

WEEKLY GALLERY: Girls' golf starts season swinging

(Story/Media)

Sep 08, 2017

Solar eclipse enlightens students

(Story)

Sep 08, 2017

Comedy becoming too dark

(Story)

Sep 02, 2017

Homecoming King Nominees for 2017

(Story)

Sep 02, 2017

Homecoming Queen Nominees for 2017

(Story)

May 15, 2017

Leaving with a smile

(Story)