Celebrities' actions make them a bad influence on teenagers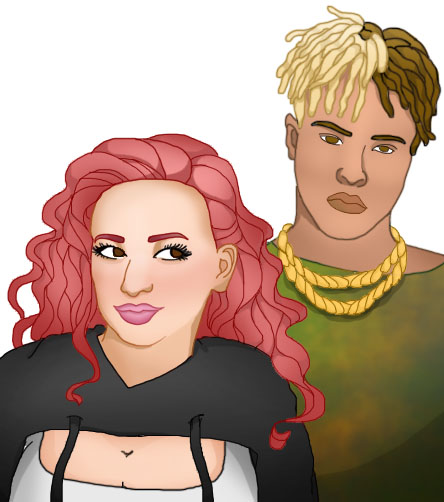 We all have certain people who we think highly of. Whether it be celebrities, fashion designers, parents, historical icons, athletes or anyone else who you deem important. We admire these numerous idols and determine to be just as accomplished in life. But there are other times where people unknowingly look up to some hazardous and harmful figures.
Many stars do drugs, talk about violence, and create bad directions for others to follow. One of these examples is a person named Jahseh Dwayne Onfroi or widely known as XXXTentacion, who started out as a SoundCloud rapper in 2014. When Onfroy was younger, he was kicked out of his middle school and later dropped out of the 10th grade. After that, he spent a year at a juvenile detention center for gun possession. Later, he was released on bail and began his SoundCloud career.
Since then, Onfroy has been arrested for multiple robberies and battery of a pregnant woman. Many of his songs are controversial, because they contain lyrics and graphic images about violence, sex and drugs. This content has outraged many people, but he still manages to gather a large following. Many people look up to him because Onfroy was fresh out juvenile detention, so you would assume at this young age, that he is trying to make a fresh start as an artist.
During Onfroy's release, SoundCloud has been becoming increasingly popular, so this might have helped contribute to his popularity when starting out as a small rapper. In a conversation with a junior named Miyah Sims, she says, "The things that he raps about is drugs, females, and stuff that is not good to be exploding out there for people, and he is a bad example."
Another example is Danielle Bregoli. She became famous after appearing on the popular television show "Dr. Phil." She was brought by her mother because of her bad behavior like fighting, attacking people and being mean to her. On the show she started saying her famous catchphrase "Catch me outside, how about that!"
Why do so many people like Danielle Bregoli? She was 13 during her appearance on the show, and people loved her outrageous and unpredictable behavior so much, she began to rise to fame.
Since then she has been charged for grand theft and marijuana possession. Many people including junior Fred Shaddai, think that she became famous for no reason. Shaddai says "I'm mad because she got famous for just being mean to her mom and doing stupid stuff. I know she became a meme on instagram and then I guess people saw that as funny and signed her. I just don't like her because she's just famous for no reason pretty much, it's not fair." This is true, and it goes for many bad influences in our society, who gain massive amounts of attention.