'Stranger Things' fans are left wanting more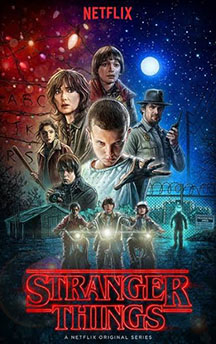 If you liked the first season to "Stranger Things" and haven't seen it, you better go do it now. The new nine-episode season questions the audience's fondness towards Will Byers. The Duffer Brothers produced an 80's thriller mystery show that veers away from their intended dreams but nonetheless produced a compelling plot line.
"Stranger Things" Season 2 compels viewers who understood 80's culture with various references to the hottest songs at the time or the latest blockbuster film. The characters go through relatable social embarrassments, like being ditched during a middle school dance.
After showing up to school with his friends, Will Byers experiences various flashbacks that pull him back into the dark and cold 'Upside Down.' Only this time the world is filled with a new and bigger threat than before. Throughout the season Will experiences these flashbacks. In one of these flashbacks Will comes across a "Mind Flayer" who possess Will and takes controls of his mind.
The main plot line of "Stranger Things" Season 2 seems too similar to the first season.
The second season only adds a bigger threat that Will might lose himself to the monster. Still with the interdimensional portal being opened for so long, the "Upside Down" created hounds to destroy and take over the world. The characters must focus, and stick together to try and stop the monsters and close the portal.
Gratefully the creators of the show kept the original cast of the show and added other main characters to the second season. At times some of the new characters were meant to develop more run time, but nonetheless many of the characters from the previous season form a character arc that many fans didn't get to see to much during the first season.
Many characters managed to connect during the new season, an unlikely duo, a slurring, nerdy, preteen manages to team up with the high school cool kid. Some of these bonds create a compelling change to the characters that fans enjoyed to see. Although some characters seemed too predictable, the story progress creates an attraction for the viewers.
The cast for the second season for "Stranger Things" was a melting pot with young talent and highly experienced actors. Sean Astin who played in Lord of the Rings and The Goonies, played a vital role throughout the new season, he helping his girlfriend, Will's mom, Joyce uncover puzzles that lead to the discovery of the portal.
"Stranger Things" answered many questions from the previous season, added more character development and a developed a broader cast.
"Stranger Things" continues to give fans what they want, heart-racing scenes that leave you amazed.
No comment has been made about a third season, but fans are desperate to watch the bizarre turns in the quiet town of Hawkins, Indiana.
Leave a Comment