Coach Halekakis to retire after 37 years in education
Coach Halekakis retires after 25 years of radiating good energy on campus.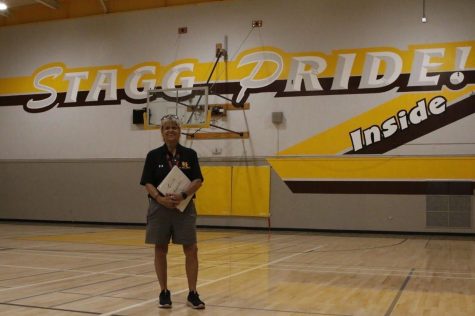 Rosslyn Halekakis decided at a young age that she wanted to be a coach after discovering her love for sports. Not only did she want to do sports, but she also wanted to leave a significant impact on her students' lives. Coach Halekakis is retiring at the end of May 2023 after 37 years, 25 of them spent at Stagg, knowing she lef t a significant impact on campus.
Halekakis said "I think after these 37 years, when I have students, former students such as yourselves that come back to me and talk about 'OK, we did this, and this', to remember those are the most rewarding things that I know. That I made some type of a positive impact in their lives."
Speaking about a teacher that influenced her, Halekakis said, "I enjoyed watching being in her class, watching how she molded all of us and I thought someday if I could be able to do the same things and make an impact on kids' lives, what a rewarding career that would be."
Halekakis encouraged students to leave her class healthy on the inside and the outside. People have said that she is big on making sure students have a safe space in her class. "She really does care about her students and she always has to make sure that everyone's taken care of. She never wants to have anyone feel left out," said senior Faith Williams, Halekakis's current TA.
According to Coach Tony Angelo, Halekakis paid attention to her students' mental health and did her best to understand them. "She loves her kids, She relates to everybody. She sees their side of view and point of view of everything in life, not just at school."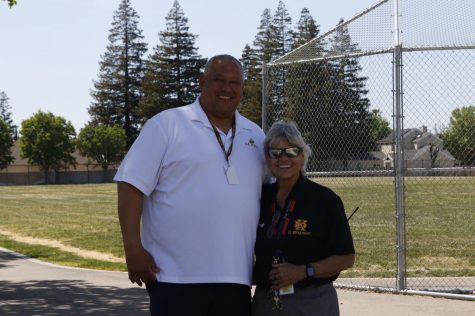 Halekakis made an impact on her coworkers as well earning their respect and admiration. Coach Kent Meek says "Look up to her? Absolutely, [I look up to her]. She's been here a long time and she's very popular and you know she does a good job running the department." 
Coach Angelo agreed that Halekakis was a positive influence, saying "Definitely, because I knew when I first started she'd been here for a while already. So she showed me the ropes and I've looked up to her ever since." They have been working together for 15 years.
Principal Brett Toliver shares the same positivity toward Halekakis as her peers.  "She's been an outspoken leader on our campus for many years and she's very well respected by her colleagues. She has been a team player and one that could be counted on or relied upon. The teachers as well as the administration as well as the campus security monitors and everybody that's involved in the campus will miss Coach Halekakis immensely."
After 25 years at Stagg, Coach Halekakis will retire, having left her mark on countless students and staff.
View Comments(1)