WATER POLO MELTING POT
One sport brings three students together from three countries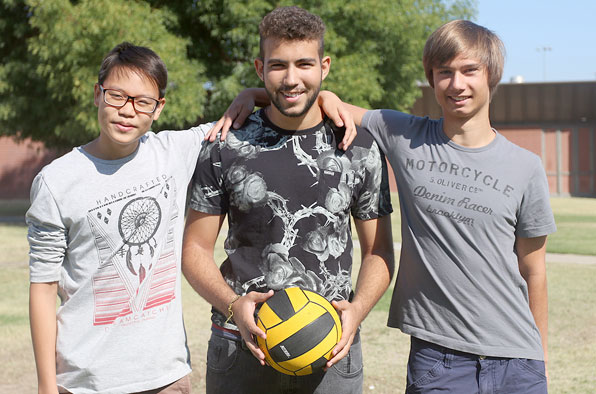 America's melting pot is making a great impact on campus, and especially in our sports programs. This year there are two international students on this campus and one from Pacific Law Academy. Water polo is the sport that they are all willing to participate in this year.
Junior Tim Tegtmeier, a native of Germany who attends PLA, adds "I am very excited to play this season." As a child he learned how to swim with a professional trainer which encouraged him to improve his swimming techniques.
Tegtmeier either swam the 100 meter or 500 meter freestyle and was able to to win the seahorse, silver, and bronze medals back in Germany. He has also played tennis and handball in his country, but is new to water polo.
When he described the differences between the two countries, he said, "In Germany you must pay about 20 euros (around $22 in the United States) to play tennis and over here it's free and part of a team."
Coming from different sports and taking on water polo shows his enthusiasm for the game. His teammate Giacomo Abdullah, a senior, said, "You can just see the spirit in his eyes and the motivation to give his 100 percent. It's cool to meet a foreign exchange student like Tim because it broadens your circle of friends."
This enthusiasm, shown in Tim is also reflected upon other foreign exchange students. Senior Michael Silva from Brazil lives with teammate Smith Tripornkanokrat who is from Thailand. While living in the same household they have built a strong relationship and they attend football games regularly. Silva also points out that in Brazil it costs about $70 per month just to play a sport.
He feels that there are more opportunities here than in Brazil because here there is no fee to play a sport. Despite this, Silva looks forward to getting better and having stronger endurance. "I want to get to know the sport whether I'm good or not," he said.
Silva started swimming at age 12, but stopped for four years because it was not only conflicting with his schedule but taking up his personal time. The cost of playing a sport is not the only factor that contributes to the transition of water polo. Silva describes the education in his country and mentions that in Brazil his school schedule was occupied with nine classes and on some days eight. Having only six periods here was a dramatic change for him.
For this reason, he has adjusted to the school schedule here along with taking the responsibility of water polo. He explains that it feels good to come back after fours years of not swimming. "Back in Brazil I would just swim for myself," he said, "but here it's different. It's a team sport and I don't just (want to) swim for myself."
Tripornkanokrat, a junior, is very excited for what is to come in water polo. "My favorite thing in water polo is shooting and defending in the game and I can't wait to play," he said.
Before coming to America he played various sports. "At home I played badminton, soccer, basketball, swimming, and I have ran," he said. Since he would run a lot in Thailand to stay fit, it was difficult for him to decide between water polo and cross country. Soon he finally came to the conclusion of joining water polo because it was something new to him.
"Running, I can train on my own," he said, "and water polo I (can) train with my coach and teammates and that's why I wanted to play this sport."
Having been exposed to a team environment, it helped him adapt to this new sport. "I like to swim and to have an (opportunity) to try something new that I never done before is great," he said. Tripornkanokrat also is looking forward to winning games, making friends, and having a strong bond with his teammates.
With their positive attitudes and strong skill set, this season they are looking forward to making a huge impact in the SJAA league. "They're no different than the other players and I see potential in them," said water polo coach Marcus Sherman.
Leave a Comment