Volunteering is more than giving back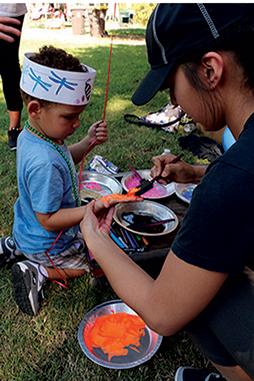 What people don't realize is the amount of students stepping up to give back to the community.They sacrifice their own time. It's many long hours of work, but throughout the whole event, they wear a kind, grateful smile.
"They always say you give back to the community," senior Yannet Avila, Interact Club treasurer, said. "But I see it as the opposite."
"It's a way to make new connections," she said. "Currently we're working with YMCA to make a dream team here. It's really cool (to see) who you might meet at community service events."
National Honors Society aims for excellence that is recognized by colleges, expecting members to complete a minimum of 10 hours of outside service as well as service provided by the club.
Interact Club's goal is to make a difference but still have a good time while helping the community.
Key Club pledges to give back to the community in the best way they can.
Red Cross Club puts their skills and talents to work when contributing in Red Cross related servicing projects.
Some teachers on campus require a specific number of hours of community service. Social Studies Department Chair Audrey Weir-Graham requires five hours of community service from her World History students every quarter.
"I think community service is about realizing the real meaning of life comes from helping and serving others," Weir-Graham said, "and I think working it into a requirement for students frame this direction in their aspiring careers."
Annual big community service events that are well known around campus are events such as Stockton Is Magnificent, Pow Wow, Coastal Clean-up, Kids In A Box, and the Greek Festival. From setting up vendor's booths to working the soup kitchen, volunteers get the job done.
Coastal Cleanup, hosted by Science Department Chair Marcus Sherman, is promoted not only through clubs but everywhere around campus. Usually hosted around the beginning of the year, students meet in the school parking on a Saturday morning to pick up litter by the levee for three hours.
Kids In A Box is hosted by New Haven Peace through high school Interact clubs. Students are to sleep in forts made out of cardboard boxes overnight on a high school football field to collect donations and raise awareness for the homeless shelter.
Senior So Her said, "Kids In A Box was really fun — it's where I really saw how lucky I am. I had to sleep in a box all night to see what homeless people went through."
Many popular small events happen around the holiday season. For example, canned-food drives and walk-a-thons occur around Thanksgiving. Also, there are toy drives, banquet halls and gift wrapping at Barnes & Noble around Christmas time.
There's always something going on whether you notice or not.
Leave a Comment