Shaddai embraces the DJ lifestyle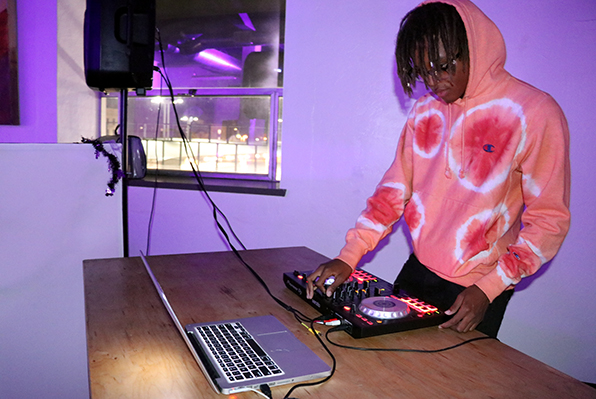 Loud music, strobe lights, and the party environment is what senior Frederick Shaddai fell in love with. Shaddai has had a passion for DJing since he was in eighth grade, but that passion was hard to pursue because of age and money. Those obstacles never stopped him from learning how to improve his technique.
What sparked his interest was attending his friends house party where a popular DJ had a cool setup. Shaddai was intrigued with the way the lights lit up along with the beat of the music. He said to himself, "That is so awesome. I have to do that someday." From that point on the dream of being a DJ always lingered in his mind.
Another thing that inspired him was watching Zac Efron's film "We Are Your Friends." In this movie the main character aspires to be a big time Hollywood DJ, while having crazy nights doing something he loved, which Shaddai could personally relate to.
Shaddai started off using a Hercules DJ controller in eighth grade, which allowed him to start off with the basics of being a DJ, like learning how to make mixes and simple transitions. Because of age he could not go out and DJ parties, so he sold his Hercules controller. After this Shaddai put the idea of DJing behind him — until last year.
At the start of his junior year, Shaddai along with a couple of friends created a YouTube channel called "Based Media." They are a group of young entrepreneurs starting off in the entertainment industry. Along with YouTube, each individual has their own aspect of art, which are; photography, film, and music. This influenced Shaddai to start DJing once again.  
"At the time the only thing I had was my pioneer controller, small speakers, and a laptop." But his return to DJing proved to be successful, as right away he got his first gig hosting a graduation party. "I felt so nervous starting back up again, but It was a good type of nervous." he said. Along his side was a close family friend supporting him throughout the night.
A few months ago, Shaddai had a gig with artists like Cool John and Dave Steezy at the ShmopHouse, where he did not get the reaction he expected. "I played a song someone requested and no one in the crowd was feeling it, so I had to transition to another song to get them hyped up again." This is one of the downfalls of being a DJ, when the crowd is not having the experience they should have.
Despite a couple bad reactions, most of his experiences have been positive and he said he would relive them a thousand times if he could. Shaddai has also worked with more mainstream artists such as SOB x RBE and Lil Yase. These artists have made his gigs memorable because of the type of energy that was brought to the stage. The crowd impacts Shaddai's experience the most. "The energy of the crowd is how I know what song to mix next."
"It's all about investment," Shaddai says as he provides tips for young entertainers. "Anything you do you are going to have to invest your time in. You might have to make sacrifices, like selling some of your most prized possessions. But It will pay off in the long run."  
In the future he hopes to work with artists such as Allblack, HBK-gang, and Kyle.
Leave a Comment