My true love gave to me a nice review
Usually around the holidays, the store racks are stocked with newly released holiday albums from singers. Unfortunately, one rarely sees authors releasing holiday-themed books around this time, let alone an anthology of 12 holiday stories written by 12 best-selling young adult authors.
"My True Love Gave To Me" consists of stories by talented authors including Holly Black, Matt De La Pena, Gayle Forman, David Levithan, and Rainbow Rowell, which are all edited by Stephanie Perkins.
This anthology has a great collection of variety. Holiday stories that celebrate Hanukkah, Christmas, New Year's Eve, The Winter Solstice, and even Krampusnacht.
The short stories range from 14 to 33 pages long each. Each is followed by another equally engaging holiday story that never leaves its readers get bored. It's nice to have the option of skipping forward to the next story.
Protagonists in the book differ from the usual stereotypes in YA fiction. It has a variety of Asian characters, Hispanic characters, gay characters, elves, even magic — it was a great read.
"Midnights," by Rainbow Rowell, is one of my favorites. It's about friendship, love, and is all set at Alicia's annual New Year's Eve party. Mags is pining over her best friend, Noel. Every year as the ball drops, Mags is forced to endure watching Noel apparently kiss anybody who wants to kiss him. It's short, simple, and sweet. I loved it. Because it is the story that introduces the collection, I'm guilty to say I had high expectations for the rest of the book.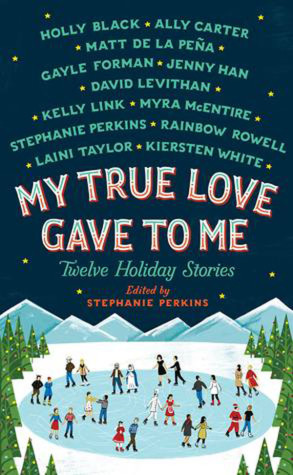 Another one that I really liked is "It's a Yuletide Miracle, Charlie Brown," by Stephanie Perkins. It's an interracial romance between an Anglo boy and an Asian girl. Marigold ends up buying a Christmas tree from North, who works at the Christmas tree lot next to her apartment building. They soon start getting to know one another as it turns out she needs help carrying the tree. I loved the humorous dialogue between the two. I loved the credibility of the characters. They both have complicated lives and realistic dreams, making the story adorable.
"Angels in the Snow," by Matt De La Pena, was by far my favorite. It's set in New York where Shy lives attending NYU on a full scholarship. Shy does not have money to go home so he is stuck cat-sitting for his friend in a lonely apartment building. That's where he meets Haley and immediately develops a crush on her. As mentioned before, I loved the realistic aspect of the characters. Characters worrying about their futures and normal struggles. It was refreshing to read something I could actually relate to with my own personal life experiences.
De La Pena came on campus on Nov. 19 to speak about his personal life and his writing career as a successful author. I noticed some similarities between his writing and his own life. The way Shy spoke about Haley, it reminded me of the way De La Pena spoke about his first crush. They also both attend college on scholarships. Both Shy and De La Pena have Hispanic ethnicity. I've never read any of De La Pena's books before but I quickly fell in love with his writing and wish to read more.
The only fault I had with this book is dealing with the fact that they were only short stories. I wanted to read more about the lovely characters.
Leave a Comment