The girl's basketball team took home the League Championship trophy on February 9th, 2023, at Chavez High School. This was the second time Stagg has won the league championship title since 1980.
During their preseason, the girls had a few losses but it only made them play harder for the league games. During the league season the Delta Queens had won the majority of their games, which made them first in the league. One of their losses was to Weston Ranch, the score was 64-37.
Destiny Martinez, a sophomore at Stockton Early College Academy who's been on the varsity team since she was a freshman, said "I felt like that was a needed loss, but I wish it wasn't that game we lost because we were doing good, it's just we weren't too happy about it."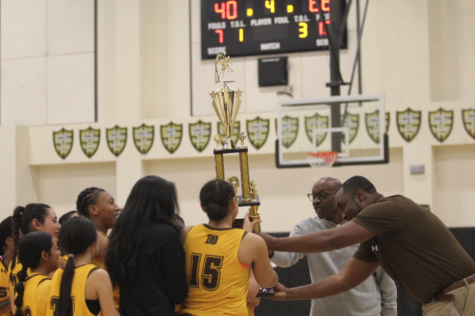 Imani Watkins, a senior playing their first year of basketball on the team, said, "I feel like a negative was losing against Weston Ranch knowing we could have beat them and just playing down to other people's level." 
McNair High School was 2nd in the league right behind Stagg. The first time they had played against McNair was on Jan. 17th at McNair High and the score was 72-65 with Stagg taking the win. The next game against McNair was at Stagg High on February 2nd and it went to overtime again. They ended the game with the score of 62-47 with Stagg taking the win once again.
At Chavez High School it was their senior night for Chavez. This was their last league game before the playoffs, the Stagg girls pushed through with a win and the final score being 68-40. 
Once the game was over, Coach Finis Jones, a Stagg Alumni who has been coaching at Stagg for the past five seasons overall, rewarded the Stagg girls with the league championship trophy. 
After receiving the league championship trophy, MVP of the game Jameelah Pharms, who is a junior at Stagg High and has played on the team since her freshman year said, "I was happy but I knew the job wasn't finished. I felt like we made history, I was proud of the team and all we did this year, and I know for a fact that the word is out about Stagg High School."
Pharms has also made 1,000 career points playing basketball for Stagg High.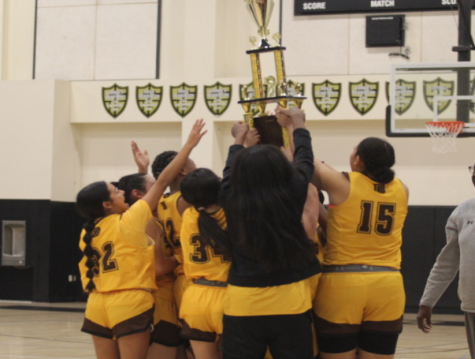 The girls were now officially in the playoffs, their first game was a home game against Davis Sr. High. It was a close game, they ended up taking a loss with the score being 56-52. Despite this loss, by making it to the playoffs for the first time since the 1980s, Stagg had made history once again.