Stockton Scholars benefits many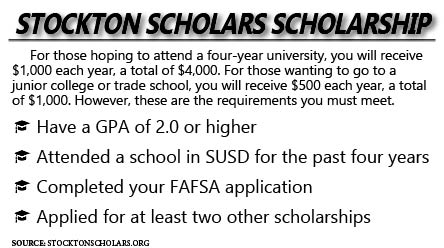 Starting with the Class of 2019, the chances of being able to go to college without completely breaking the bank have just increased. Mayor Michael Tubbs has recently announced Stockton Scholars, a new organization that gives scholarships to local students.
This new plan is not only brilliant but also generous. With scholarships of up to $1,000, one's college costs have just been reduced. Yes, we know that $1,000 won't cover all of the tuition or other fees, but it would be more than enough to buy our books. Scholarships like these can add up, covering the majority or even all of one's expenses and possibly contributing to tuition.
Stockton Scholars is the plan Stockton deserves. Now, we'll have an actual chance at making our expenses cheaper, especially since the scholarship is directed specifically toward us. As of right now, the scholarship will only be open to students who attend schools in Stockton Unified School District.
For those who decide to go to a two-year college or trade school, an amount of $500 is given. Fortunately, these scholarships are renewable.
However, the money will not be handed to us just like that. There are requirements, which include having a grade-point average of at least a 2.0, living in Stockton for the past four years, completing your FAFSA application, and applying to at least two other scholarships or grants. If we really think about it, anyone is capable of getting that scholarship, except for those who are new to Stockton.
For those who are on the borderline of getting above a 2.0 GPA, there is now hope that might give them that little push to boost their grades. That one extra hour of studying each week could bring these borderline students one more step closer to college.
The Stockton Scholars program wisely includes a requirement that makes sure we apply to at least two other scholarships or grants. This will potentially help us get more money, making the cost of college a lot cheaper.
With this new program, there is now new hope for us. Especially for the ones who have long believed they couldn't attend college because of their financial issues. This new hope will lead us on the path to college, securing a future career and a bright future.
Leave a Comment