Community speaks up
Town hall allows youth to raise key issues ranging from violence to voter registration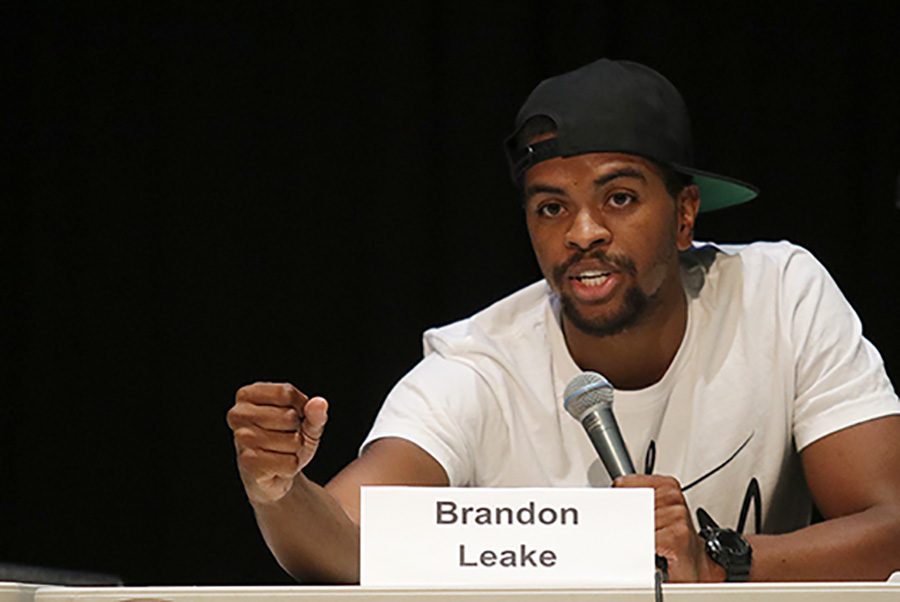 "The only way that we will be able to move forward as a community and as a city is if we unite together as one." These words echoed throughout the auditorium of Cesar Chavez High School. A long, intense pause followed, allowing freshman English teacher Brandon Leake's words to sink in. Like many other participants of the Youth and Community Town Hall, Leake believes that the key to change for our city is already here. It is the youth.
On Saturday, Aug. 18, Stockton Speaks and Cleveland School Remembers came together to host a Youth and Community Town Hall Meeting. The first of many to come, this meeting gave Stockton's youth a place to express their opinions and ideas about their city.
Seniors Carlos Felipe and Richard Valles both attended and learned how to become involved in the community.
"It was very insightful," Felipe said. "There are a lot of things that our community does that I do not know about."
While Felipe was able to gain new information, Valles was inspired to learn even more about what was happening in Stockton. "Before this, I was never really interested in local politics," he said. "But the event encouraged me to focus more on what's happening in our local community."
Florentino Silva, an 18-year-old who organized the event, sees the town hall as a place for young people to ask questions and get involved in their community.
"In Stockton, I see that we have a lot of potential in our youth," he said. "We just don't know how to utilize that potential or how to express our voices."
A Stockton native himself, Silva grew up in Conway Homes. Living with his grandmother in a studio apartment, his community was plagued with gun violence while crime rates were at a constant high. Luckily, thanks to his father, he was able to escape from those surroundings.
"I was able to get out of that place because my father was involved with the police department," Silva said. "But the thing is, not every kid has a way out or a get out of jail free card. I was lucky enough to have one."
In order to see change, Silva believes that we must highlight the stories of the individuals who have been impacted by such environments and also get involved in the events that occur within our community. He says that it's the only way to get the idea into the heads of the policymakers.
"At the end of the day, getting involved in events such as these is the power that the youth does have," Silva said.
In addition to community involvement and safety, another main topic of the meeting was gun violence prevention. On Jan.17, 1989, Cleveland Elementary School in Stockton was devastated by gun violence when a gunman entered the campus and opened fire, killing five students and wounding another 30. Julia Schardt, member of Cleveland School Remembers, was teaching there on that tragic day.
"We need to remember that when something like this happens, we aren't helpless," she said. "There are things that we can do in our communities to fight against these issues."
When Marjory Stoneman Douglas High School was attacked in February of this year, Schardt was amazed by the reaction of young people across the nation.
"They knew how to be articulate and form their message," Schardt said. "They were heartbroken and angry and they knew exactly how to direct their emotions by telling Congress that there needed to be change."
Schardt was excited to see that Stockton's youth wanted to be involved in changing our country.
"What the students in Parkland did really opened up the doors for other students across the country to use their voice and try to make a change," Schardt said.
With a common goal of community safety, unity and gun violence prevention in mind, Silva and Schardt teamed up to host the Youth and Community Town Hall. The pair agree that all of the paperwork and obstacles are worth it in the end.
"In Stockton, there aren't really any events happening like this, but if the community is provided a platform where they can have a say, we will be able to move forward," Silva said.
Silva plans on reaching out directly to Stockton's youth, the communities that they live in, and the schools that they attend. Schardt has welcomed the idea of holding meetings within Stockton Unified School District's schools.
"For a long time, the understanding has been that since we're adults, we know what's best," Schardt said. "But when you ask a kid if they feel safe in their town or if they have enough to do, the prescription shouldn't be written by an adult. Young people should be a part of the discussion."