Teens learn gun safety through family
When most people think of a gun, they think of its capability to cause mass chaos and destruction. They think of the fatal injuries and deaths that it has the potential to cause. However, for Amber Talent, it's more of a tool to bond with her father.
"Since I was young, my dad has taught me how to handle and use a gun properly," she said. The junior has been slowly weaned into the world of self defense and firearms since she was a little girl.
Students like Talent are strong gun enthusiasts because of their families. This is also the case for senior Vincent Grayson. Grayson passed his safety course to get his gun license when he was 10 years old and went on his first hunting trip with his family later that same year. "I was taught since I was able to walk and talk how to handle a weapon safely," the senior said, "but people still don't really trust me."
According to Child Trends Data Bank, 280,000 firearm related deaths were recorded among teens in the mid 1990s. In 2013, the number of recorded deaths significantly decreased to half of that at 100,000, thanks to the help of new Child Access Laws and safety programs that were implemented across the country.
"I attended a program called Front Sight," Talent said. "The program teaches young kids how to use a firearm correctly and even hand to hand combat when a gun isn't an option for self defense." Although the program is open to young children, safety is of the utmost important at the facility, the junior said.
For Grayson, he received his hunting license through the California Department of Fish and Wildlife. "The course wasn't too difficult but it prepares you for this 100 question quiz you have to pass without missing more than five of the questions," he said. Although courses are offered to young children, they do have restrictions. Children younger than 16 are only allowed to hunt small animals while those who are 16 and over are basically unrestricted.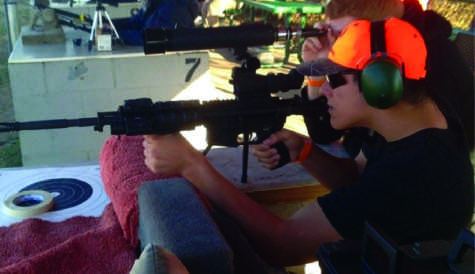 However, some students on campus have become such strong supporters of the Second Amendment because of the military. Senior Jordan Farmer aspires to join the Marines as an infantryman.
"I shoot right now with my dad but the Marines opens up the range of guns you can shoot," Farmer said. "I shoot a lot with Vincent, too, but I want to shoot more high caliber guns with the military."
Farmer has always been a firearms aficionado because of his father but it became more of a prerequisite for the Marines.
"I think where people are scared is because they think we are too immature and too clumsy to handle the recoil of a rifle," Grayson said. "I know my limits with my weapon.
"I learned that the first time I shot it when it left a bruise on my shoulder." The highest caliber rifle he shoots is a 7 mm hunting rifle that has a "pretty nasty kick back when you first shoot it."
"I can do a lot with a handgun," Talent said. "I can fire it, handle it, even disarm from someone who is attacking me." Although Talent cannot legally buy a gun until she is 21, she continues to learn from her father and attend Front Sight to be prepared for that responsibility.
"People need to realize someone under 21 cannot fire a weapon without going through training," said Farmer. "We are trained on what to do and we have to practice that every day on the range or in the woods. We know what we are doing even if we aren't as old or experienced."
See a video on gun safety here.
Leave a Comment