Weight Training Teacher uses his experience to teach kids
Coach Flores builds real bonds with students and helps them improve themselves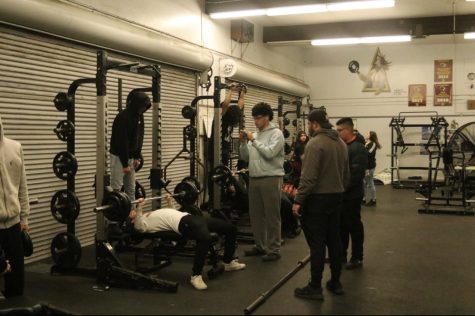 P.E. teacher and coach Andres Flores likes teaching his students and pushes them to be the best they can. It is his second year teaching at Stagg, Flores taught for three years at Bush Elementary before this.
Flores talked about how he came to the decision of becoming a teacher, "I started by substituting at a college and I enjoyed it, so I decided to make it my full time job."
Flores believes building a real relationship with students makes teaching easier overall. "Class management is difficult if you don't have a relationship with your students.The biggest part for me; I want to have a bond with my students. I wanna get to know them not just as students but as people," said Flores.
His lesson plans for the students usually consist of training, exercise, an occasional fitness challenge and power cleans, which is a weight lift where the student lifts a barbell from the ground to their shoulders.
Flores explained, "Students do power cleans [and they] are not natural. It's not like you're doing squats or benching, it's an exercise that requires a lot of technique."
Flores went into detail about the benefits of exercise. Most recently, his class was working on muscular endurance space by doing sets of reps with low weights. He planned for them to work on muscular power next, by doing low sets of reps with high weights. 
"Usually when you're starting, you wanna start with low weights. It's almost like how you don't just start with sprinting, you're not gonna run a marathon on the first day," said Flores.
Student Miguel Angel Magana talked about how Flores motivates him, "It's a cool class and I like it. It's easy, as long as you know what you're doing and listen to the coach. Coach Flores pushes me by putting my weights up, so I try harder to become better."
Leave a Comment