The Unbeknownst Journey of Mr. Medrano
Sometimes student's feel like they work with teachers who apply all the same rules and attitudes. However, in classroom B-4, that is not the case, with teacher James Medrano.
For quite a while, Medrano has managed to leave a great impression all around campus. Some would even say that Medrano was made to be a teacher. Although that may be true, in Medrano's eyes, he never imagined becoming a full time teacher.
Medrano has been teaching at Stagg for five years full time. However, in total, he has been teaching for seven years. This is due to Mr. Medrano teaching at another school prior to Stagg.
"I started teaching full-time at Venture Academy for one year, which was in 2016, but prior to that, I substituted for Stockton Unified for five years." Medrano said.
Located near the edge of Stockton, Venture Academy is a collection of high schools that has a majority of electives for students to choose from, including academics, agriculture, and sports. Although Medrano stayed there for a short period of time, he looks back at the school with very fond memories, especially with the students there.
"The students there were fantastic. They're such good kids and the staff was kind and accommodating. They had a great relationship with everybody." said Medrano, when describing the experience.
However, Medrano ended up leaving Venture Academy and the classroom for a period of time because he felt that his passion and personality was not being met while teaching there.  
"As nice as they were, I thought to myself 'This wasn't me, they're not fulfilling me personally.' After that, I got sad and confused, and I wasn't able to find something to supplement my fees, bills, etc," Medrano said.
However, hard financial times caused Medrano to once again apply for school and he ended up at Stagg High School.
"I remember when I got hired at Stagg I went in there reluctantly," Medrano said. "I remember when I got the job, I had mixed feelings. Like sure I got a job but, was this what I am, a high school teacher? I thought I'd be different things like a cartoon voice actor, writer, making movies, but never a teacher."
These thoughts lingered through Medrano's head, and his first day at Stagg did not help at all, as he felt nervous about whether he'd say something wrong or come off in a certain way.
"How do you not, as an adult, place yourself at the mercy and judgment of 30 or so high schoolers, and assume you'll be fine? If they act like they are, they're totally not, they are not fine. It's terrifying."
Medrano worried about whether he'd embarrass himself, say something silly, or be unable to answer a student's question so much so that he still continues to have those thoughts to this very day. 
However, through it all, Medrano managed to fight through those thoughts and get through the day. 
He said he does get exhausted and a bit stressed, but is in a far better mode than how he was in his first year of teaching.
According to Medrano, he feels the most comfortable at Stagg than anywhere else.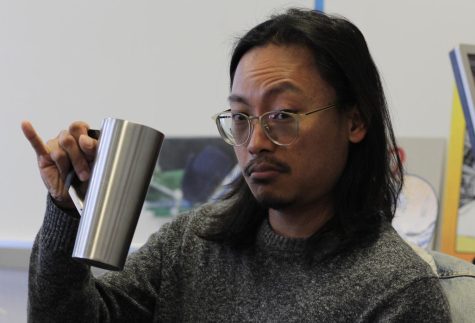 Medrano has found comfort in colleagues, and even went as far as saying one of his colleagues, Mr. Chris Valdez, is his "variant", or an alternate reality version of himself.
  "He's so friendly and understanding. Characteristics like these are why I like him so much as a teacher," 
Medrano said. "Qualities like these are kinda hard to find in teachers, especially high school teachers."  
Through it all, Medrano has not only found his spot at Stagg but perhaps even in life. 
He said he found his place here and it seems he won't be leaving here  anytime soon.
"I could leave here, but I don't want to. I like it here, and I don't wanna leave, nor do I plan to." said Medrano.
Leave a Comment