The Food Truck Frenzy
ASB held an on campus event known as "Food Truck Frenzy" on April 6.
On April 6th, Stagg held an event known as "Food Truck Frenzy" to encourage students to come to more events and bring recognition to local businesses, says ASB sophomore class president, Adalina Pineda. 
The food trucks involved in this event were Jumpn Tastebuds, The Churro Spot, Fancy Sweets 209, Double Back, The Wing Truck, Callejeros Grill, El Bolo, Costas Finest Kettle Corn, Tacos Y Eventos Maya and La Mesa. 
Many students who attended this event enjoyed it. Freshman Axel Ayala Franco, expressed his enjoyment of the event saying, "It honestly was really good, there was a lot of variety of food to choose from and the people were serving us well. I overall had a good time." 
Ayala Franco feels that the Stagg's ASB team chose good food trucks, but felt others, like the wing truck, weren't as good as others. "It wasn't great. I mean they weren't terrible, but they didn't give me that wow factor." 
This year's Food Truck Frenzy was the first one Stagg has ever held. "I would 100% love to do this event again because it brings everyone together and we all have fun," says Franco. 
Stagg High freshman, Machiah Garduno, on the other hand, had a more difficult experience. According to Garduno, this event was alright, though she feels that the food was very expensive. She states, "It was difficult to buy food from certain trucks because their card readers wouldn't work as well." 
However Garduno was still able to enjoy the event somewhat, "Overall, it was very fun."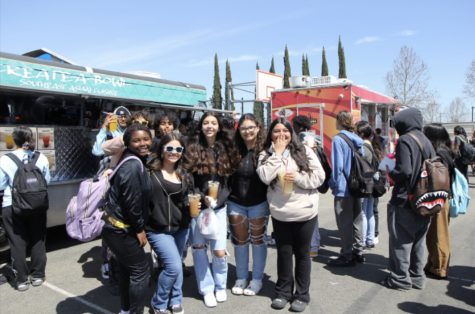 Principal Toliver mentioned that this event was easier to organize compared to his previous experiences with hiring food trucks.
When asked if there will be similar events in the future, Pineda neither confirmed nor denied the possibility, simply saying that "We all have to wait."
Leave a Comment