The Calming Room
Fresh from spring break, students are now able to use a newly organized and improved Calming Room. Located in the Wellness Center with additional tools for mental health, students are welcome to use the Calming Room to calm and collect themselves before returning to class.
With the help of clinicians, Arica Arucan and Joshlynn Uribe, the Calming Room was made possible, with the purpose being to give students a safe, relaxing space to relieve some of the stress that comes with being in a school environment. 
Arucan explained what the tools and services in the Calming Room offer, "It's a therapeutic space where someone can come and use different evidence-based tools, like thera-putty, painting, fidgets, relaxation/calming bottles." Evidence-based tools have been proven to help with things like ADHD, stress, and anxiety.
However, time in the Calming Room is not unlimited. "We're having kids be in the room for 10-15 minutes and then our goal is to get them back to class, it's sort of like a little rest here" Arucan said.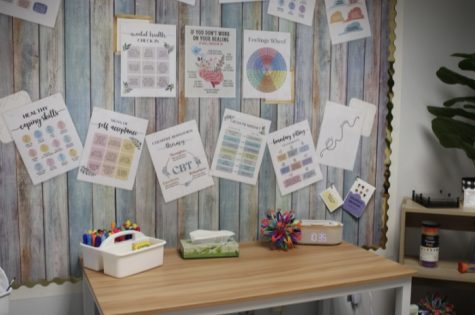 The Calming Room also offers a multitude of clinician groups accessible to students if needed. "We have anger management groups, we have grief groups, we have a social skills group, we also have a substance abuse group, pretty much any group that you would need, we can help if needed."
Two students at Stagg have had good experiences with the Calming Room so far. Both mentioned their passion towards drawing/painting, which is not only proven to relieve anxiety but also gives the artist an opportunity to share their feelings on the surface. Students have also mentioned their appreciation for the variety of tools to choose from, one student said, "Anything to calm you down, they have it." 
Although there has only been two visits per student so far, students still expressed the positive impact their experience in the Calming Room had on their well being.    
Gabby, a 10th grader, said the Calming Room was a "warm and relaxing" environment.
She enjoys painting which the Calming Room provides the supplies for. She mentioned dealing with feelings of anxiety and anger, she prefers quietness when painting so the Calming Room has been a great space for her to come and relax. 
"If for some reason they need to talk to someone, we can connect them to their counselors, if they've never had services here in the wellness center or if they have been connected with a provider because we have a couple different therapists. We have Arica Arucan, another therapist named Josie Uribe, then we also have field work students," said Arucan.
The Calming room is now open from 8:30 to 3:30, Monday–Friday to all students. Whether students are in need of a break, a place to relax or even someone to talk to, the Calming Room has got it all and more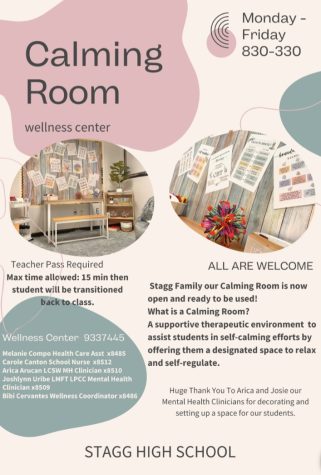 Leave a Comment