Sam Hinojosa demolishes opponents on way to 2nd place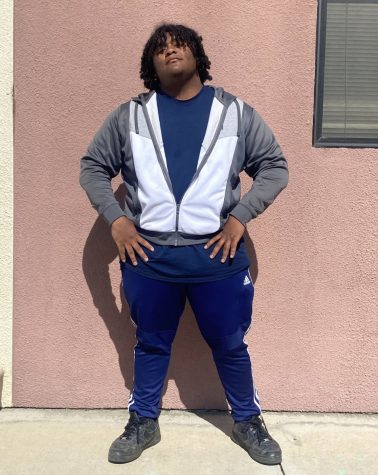 On February 21st, the California High School State Wrestling competition was conducted with athletes from all over California competing. It had released the results for all of its participants that made it to the finals. One of those participants is Sam Hinojosa, a Senior wrestler from Pacific Law Academy. Not only did Hinojosa make the list, he wowed the judges getting second place overall, the second time he has done this.
Hinojosa has been an experienced wrestler for quite some time, so much so that last year, he received second place. Despite his accomplishments, Hinojosa has been described by most of his friends and peers as loosened, relaxed, and chill. 
"Like in the final match, my friends will tell you the same story, how I was smiling and dancing in the back rooms so I wasn't really taking things seriously," said Hinojosa when talking about his experience in the tournament.
This trait is what helped out with Hinojosa's performance throughout the tournament as it wasn't filled with fright and anxiety. When asked about his personality, and why he was very relaxed throughout the tournament, Hinojosa said, "I don't have an amazing reason for why, I guess that's just part of who I am. Been like this for quite a while, even in last year's tournament I was acting this way."
However, as difficult as this may sound, Hinojosa would not face a roadblock throughout his training for this year's tournament. This is mainly due to his new coach, Andres Uyeda. According to Hinojosa, this was Coach Uyeda's first year, meaning this would be Hinojosa's first experience with a new coach.
Even though this sound's like something Hinojosa would find difficult, especially with getting used to a new coach, he and Uyeda worked well together.
"Oh, he was great, he wasn't bad at all. I really enjoyed having him as my coach. Since he understood me very well, my personality, and who I am. I'm not dissing my other coach from last year, but this new coach was good." stated Hinojosa.
Throughout practice, Hinojosa described his coach as being nice and understanding, which is something he was pleased to have. Uyeda was also pleased to know that Hinojosa had won 2nd place last year.
"He's a new guy, showed up this year, so he wasn't really surprised about my placement, since he saw my records from last year, so he probably knew that I'd get second place again this year," said Hinojosa.
As for the opponents that Hinojosa faced, he'd mention how although he didn't have any prior experience with them, he mostly had no difficulty at all. This came as a surprise, mainly because of the height comparison, which Hinojosa would say is the only difficulty he faced.
"Most people are like 6 ft or above in my class, so I was at a far disadvantage."
Keep in mind, Hinojosa was approximately 5'10 in height, indicating that most, if not all, of his opponents were taller than him.
But throughout the tournament, Hinojosa would state that he overcame the height difference and managed to get through the tournament.
In the end of it all however, Hinojosa fought through the tournament with breeze, getting second place once again. You can say that this is the same event as last year, but this tells the story of a senior who managed to fight alongside change in teaching and opponents, and still managed to stay on his spot. 
Leave a Comment