Once Upon a Grapevine brings joy and slight confusion to Stagg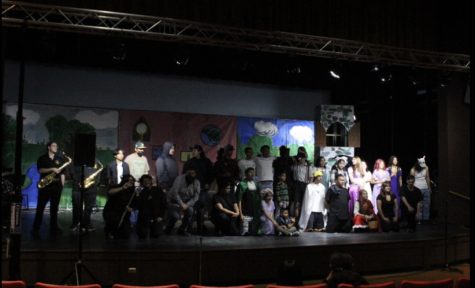 Friday, May 11th, the Stagg Drama Club spread excitement to students with their first play of the year. The club performed Once Upon a Grapevine, a unique original story that includes different fairytale characters such as Snow White, Red Riding Hood, Cinderella, and much more all in one play.
In the play, a series of miscommunications happen where Red Riding Hood bumps into the Wolf and invites him to have supper at their Grandmother's house. The Woodsman observes them eating and goes to tell Cinderella's evil stepmother, who then changes up the story to make the wolf look bad. This story gets repeated to more and more characters, serving as the base conflict of the story. 
The audience was left somewhat confused about the events of the play, with parents even wondering what the play was all about. That being said, they could tell there was a heartfelt message at the center of the story.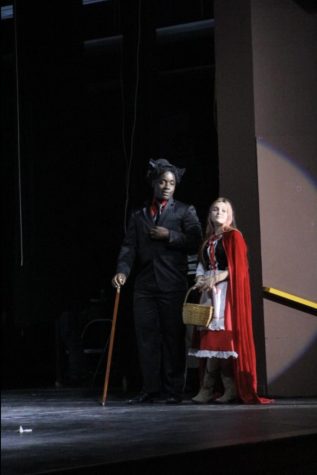 Plot aside, the actors appeared very rehearsed and the costumes were well made. The play took place on a student-designed set. Junior Aloysis Tih, cast as Mr.Wolf from The Little Red Riding Hood, mentions that, "…[the set] took months. It took a long time to paint all the wood. I barely started painting and my arms were tired."
Drama Club students had their hands in every part of the play. Building the set, for example Rapunzel's castle and a backdrop large enough to cover the back of the stage, was just a small part of the effort the club put in. Students would come on Saturdays to paint their props, rehearse their lines or continue building on the set. 
The play not only featured a student designed set, but the music was also provided by Stagg's Jazz Band.Junior Quintin Maldonado, who played one of Three Little Pigs in the play, expressed his appreciation for the bands scoring. Particularly he enjoyed, "the transitions between songs."
Drama Club advisor Steven Reed led his students in the first play of the year. When it came to the student's role in the play, Reed mentioned that "…[the] roles matched student's interests." The play had room for many different skill levels of theater to perform.
Leave a Comment