New Teacher Excels in Using a Class Environment to Learn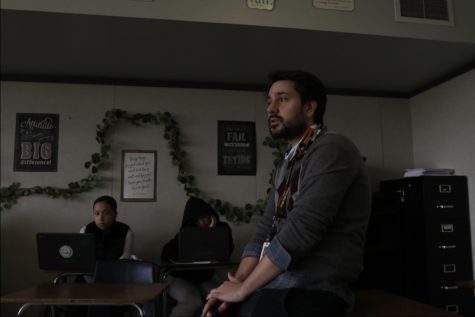 Nolan Long is a teacher that attaches with his students so he can learn to be more efficient at teaching. Long is an English teacher who joined Stagg two years ago. He developed his teaching skills by connecting with his students either through current events, modern topics, or through new English slang.
"Teaching here has been a bit more of a struggle partly because the students are always challenging me, so I have had to learn how to be a better teacher and how to better serve student needs because of the challenges," Long said.
Since Long was a college English professor before teaching at Stagg he isn't really used to teaching in the small classroom environment rather than large lecture hall which means he approaches teaching in another way instead of the way he is used to. 
"The way I teach is probably not the most effective for students," Long said. "I prefer lecturing, it's an old habit of mine."
He said he attempts to learn from his students by observing how they talk to each other not only to teach better but also to communicate with students more effectively. 
"The more I understand them the more I can fine tune my lessons to actually be on things that matter to [them]." Long said. 
Don Bott, an instructional coach that guides Long, said he thinks Long's strategy is a good thing to have in order to have a good connection with students that will ultimately benefit the teaching process. 
"I think that kind of connection is really good, because kids end up liking you, they end up seeing part of you that is just beyond your role as a teacher," Bott said.  
Leave a Comment