'Zootopia' is a terrific, must-see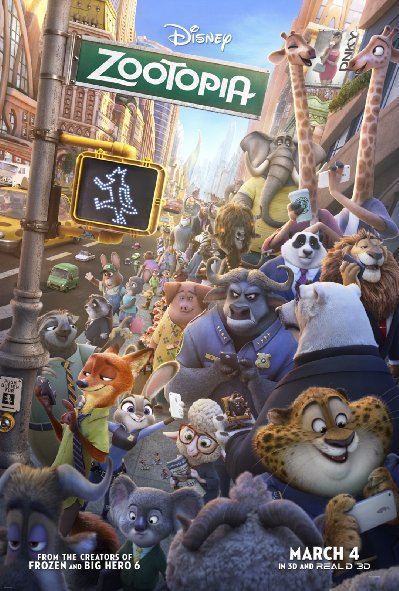 Have you ever seen a show or a movie meant for child and are surprised at the mature themes? Disney continues to impress me, and also have me leaving the room with tears in my eyes.
"Zootopia" is exactly what it sounds. In a world where animals live upon another in their own, Judy Hopps (Ginnifer Goodwin) works to prove herself as the first rabbit police officer. While their society is full of furry creatures, it's no different from ours. There's artists, farmers, law enforcement, and government. Many of the careers are alike humanity's. What I didn't expect there to be was the society norms and undermining commenting on stereotypes and harmful stigmas that "Zootopia" depicted.
Kudos to Disney for teaching a crucial and important movie through an utterly adorable and intriguing animation film.
In their metropolis, there is an unfortunate divide between prey and predators. This issue explores gender and racial conflict. It's almost impossible to miss the subtle undertones the film has, taking a jab at our society right now. Internalized prejudice and overcoming it is one of the main things they focus on in the film. To combat this personally, Hopps takes on what seems to be an unsolvable missing animals case to prove herself. She recruits con artist fox, Nick Wilde (voiced by Jason Bateman), to help her uncover this conspiracy.
The story is told in a paced speed with comedy, heart-warming and shocking bits to keep viewers interested. Animation alone is quite impressive. One can see that even the smallest of detail received an equal amount of attention that a character would. This adds to genuine awe of animated cinematography. Recognizable voices such as Idris Elba, J.K. Simmons, Octavia Spencer, and Shakira. These voice actors manage to effortlessly capture the characters' emotions with their dialogue and tone of voice. Whether it be a high-pitched voice or a deep booming voice, all of it is remarkably well done.
Goodwin and Bateman alone stand out as the partners-in-crime pair, they're the heart of the movie. While both personalities actually contradict each other, it's evident that they also compliment one another. Their bickering is the anticipated laugh by the end of the movie.
While the story was marvelous, the amount of work in creating the actual "Zootopia" was what was taken away from the film. A whole world with its own societal norms and stigmas as well as systems and structures was pulled off exceptionally. "Zootopia" holds heavy social themes but it doesn't take away from the movie, in fact, it adds.
Shakira's theme for the movie, "Try Everything," adds a positive upbeat song to capture the essence of the movie beautifully. It may be a children's movie, it can be an important watch for some adults who need a little positivity in their life.
Leave a Comment