Bober Tea only good for the aesthetic
Bober Tea and Coffee has a pleasant atmosphere, however their drinks are not great.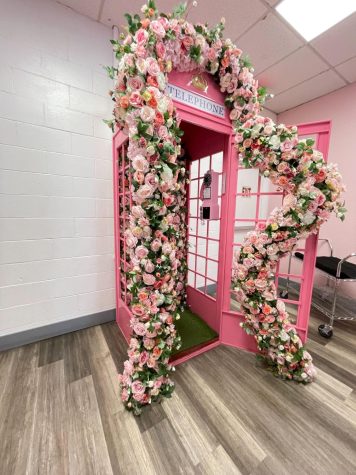 When Bober Tea announced that they were opening, a lot of people were excited and it was a successful tea shop because of how pretty the interior is. I love boba shops and it was near me so I thought this could be my new boba spot. Overall, while the mochi donuts and study rooms are good features of Bober, it's not a great place for the boba drinks themselves.
Bober Tea and Coffee is located in College Square at 959 W March Lane. Their hours are from 10AM – 9PM, which is actually kind of late for people who get up early for work and school. I'd expect them to open earlier, especially with them being a coffee shop.
The first time I went to Bober, my first impression was the interior was so lovely and was already making me love it. When you first walk in, the place overall looks so beautiful and preppy. The way you order when you are inside is with an iPad like screen. You pick the drink and how sweet you would want it, which is very considerate.
I ordered a Brown Sugar Cookies & Cream drink with no boba. The drink was very good looking and matched the inside of the shop's aesthetic. However, I tried the drink and was very disappointed with how it tasted, the drink tasted like straight milk. I even mixed my drink well to see if the sugar was at the bottom, but I was sadly disappointed.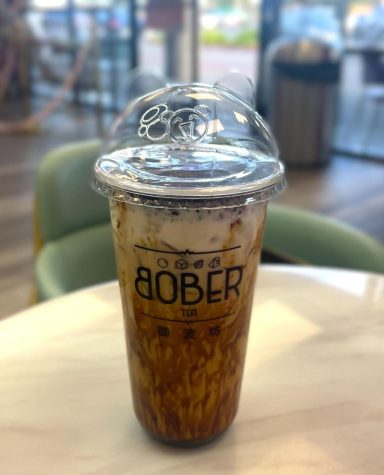 I thought maybe I could give another drink a try and it was just a one time thing. A month later, I came back and gave it another try. I ordered the Chizu Matcha Latte and again I was disappointed. Matcha is a flavor I enjoy sometimes, however this time was not one of them. If I could describe matcha, it tasted like the old, cut grass collected at the very bottom of a lawnmower.
I was about ready to give up on Bober completely. However, their mochi donuts are great. They have a large variety to choose from. I tried the fruity pebbles, cookies & cream and s'mores donuts. The dough of the donuts were perfect, and weren't too doughy or too hard.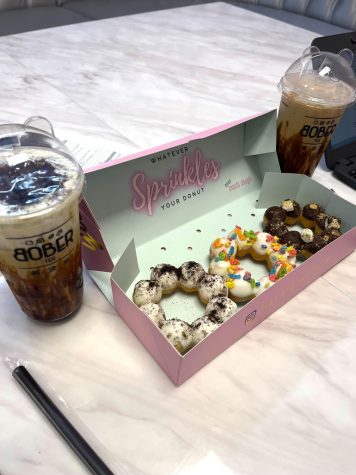 Bober tea's prices are reasonable for the drink only being one size. One drink is about $4 – $6 dollars. The mochi donuts are $7.50 for only three and a dozen would be $28 dollars. Even though their drinks are not all that expensive, their mochi donuts are.
Bober tea only takes card and online payments, not cash whatsoever. The online payment is not very convenient for customers, especially with a lot of the customers being students. Not all students will have cards but mostly cash because it's more convenient. You can't even tip with cash for the workers, only online when you're done ordering.
Bober Tea features two study rooms for students or anybody that needs to do some studying in a quiet place. You can even reserve the study rooms for however long you would need. This is very useful to have, especially with there being a college and a high school nearby.
From Stagg high, it would be about a 15 minute walk and a four minute drive, which is great because you can come with friends and it's not too far if you don't mind the walk.
Overall, Bober tea's drinks are not great, however the inside is beautiful and their mochi donuts are delicious. I would not recommend making this your go-to boba shop, but it is a great place to take a picture and leave right after.
Leave a Comment