"17" deviates from XXXTENTACION's norm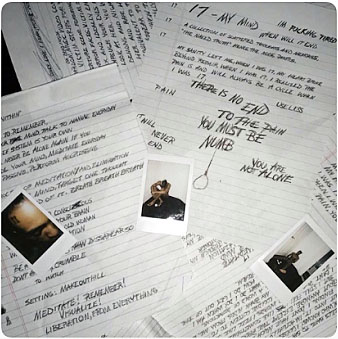 If you have ever listened to the music of Jahseh Onfroy, better known by his stage name of XXXTENTACION or X, I'm sure you have already formed your own opinion about the Floridian rapper. With two-toned dreadlocks, a plethora of tattoos, numerous criminal charges, and an affinity for screaming at the top of his lungs, XXXTENTACION has certainly become one of the most controversial artists in the past couple of years.
If you've ever stumbled across his Soundcloud, you'll notice that low-fi, bass-boosted instrumentals accompany most of his unconventional vocals. Deviating from this approach, X's debut album "17" focuses more on the vocal aspects of his music. He refers to the album as "my collection of nightmares, thoughts, and real life situations I've lived". In "The Explanation" he says "I put my all into this, in the hopes that it will cure or at least numb your depression".  
"17" will take you on a ride through your inner emotions as it depicts scenes of suicide, death, and loss.
As explained in numerous interviews, he is heavily influenced by bands such as Nirvana, Kings of Leon, and The Fray. The presence of this influence is blatant throughout the album as he produced the majority of its tracks himself. Songs such as "Save Me" or "Dead Inside" are taken over by the piano while songs like "Depression & Obsession" and "Jocelyn Flores" are dominated by guitar.
Though he stated that this album was intended for those who are depressed, I can say with certainty that "17" can be enjoyed by anyone who is willing to give it a chance.
Given X's versatility, he is able to adapt his sound to suit multiple different genres. As I was raised listening to numerous genres, I thoroughly enjoyed listening to "17" since I'm able to appreciate the songs for what they are. For anyone looking to expand their musical horizons, "17" could be your first stop on that journey.  
Leave a Comment