Culinary career lies ahead
October 28, 2014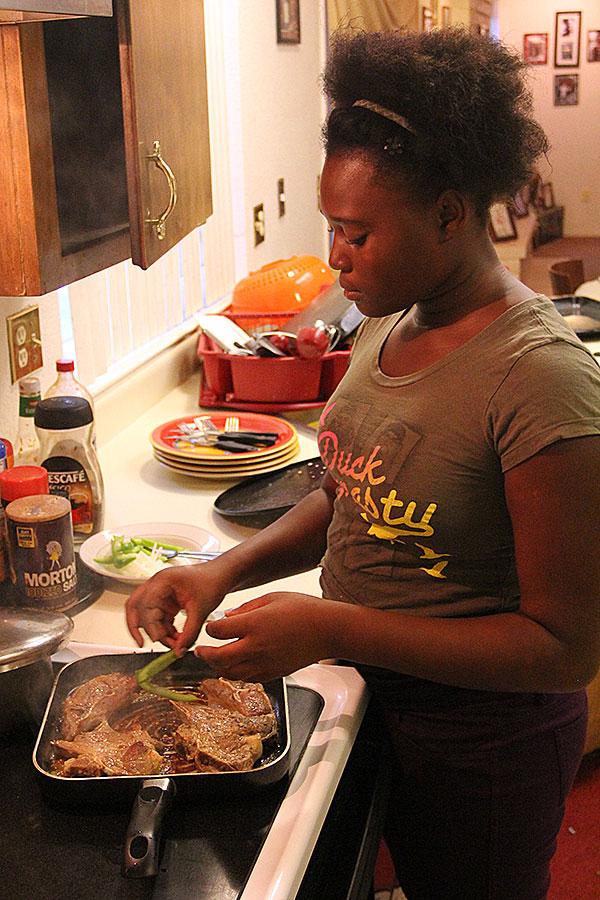 The aromatic smell of pork chops filled the kitchen, along with fried vegetables and yellow rice. This was a normal day for freshman Kendra Turner who began to cook at the age of 10. Turner's mother, Nicole Burford, mentions that her daughter cooks really well, especially the fried chicken she makes. She cooks almost every day for her family. "I wanted to be a doctor because my mom was a medical assistant," said Turner. Although becoming a doctor interested her, she has become more interested in cooking because it's something she admires. She finds cooking enjoyable, however she feels frustrated at times when nobody wants to try her food.
Entering her kitchen, Turner prepared with many ingredients. She started by washing the delicate pork chops, then adding a variety of seasoning. Looking at her kitchen there are many seasonings to choose from, including seasoning salt, accent salt, black pepper, garlic powder, chives, cilantro, and garlic. As she finished up, the meat was ready to be put in the skillet.
Turner started chopping the onion and green pepper and soon it was added to the pork chops. She chopped the vegetables at a steady pace, making them into small dense slices. Before she added the vegetables to the meat, she set the sliced up onion and pepper on a plate and waited until the meat was ready. Turner constantly flipped the meat over letting it cook on both sides. "You put the cap on the skillet and let the meat simmer and absorb the flavor," Turner said.
Next, she started making rice, which called for two and a half cups of water. The package of rice already included seasoning. Turner adds, "It's good to have yellow rice with flavor." One thing Turner likes is making yellow rice but mentions that she doesn't like to make white rice because it takes longer to boil with the starch in it.
"You don't stir your rice because you'll mess it up," said Turner. "You let it cook all the way through."
Turner thinks the hardest part about cooking is putting the seasonings on the meat. At one time she put too much seasoning salt on her pork chops and realized that the meat tasted a little too salty. The easiest foods she has cooked are pre-packaged rice and frozen vegetables. "My greatest accomplishment in cooking is making filet mignon," said Turner. "I have always wanted to learn how to make filet mignon, and the time I finally accomplished it was on Mother's Day." Turner mentions that her mother doesn't have to tell her to cook, she just does it without being expected to. Cooking is not only her passion, but something she looks forward to pursuing later in life.
Burford said, "My daughter wants to learn how to cook Southern food because I used to cook it." Turner's cooking skills are useful in life and will serve her well in the future. She plans to attend a university where she can major in culinary arts.