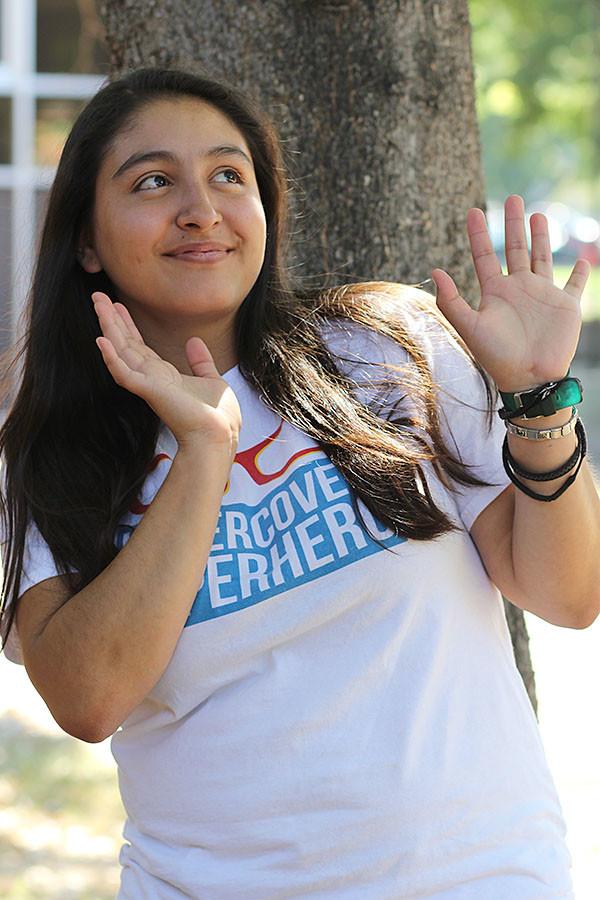 Position: Sports Editor
Nickname(s): Scintillating Sathina
Fun Fact: I'm going to be the future President of America.
Hobbies: As one of my hobbies, I love to run with my cross country team. Not only just with them but on my free time as well. I also enjoy reading books, watching movies, and drawing. But most of all I love talking about sports.  
Why I joined journalism: I joined journalism because I like to inform people of what's going on around them. I also enjoy writing and even though the writing in journalism is different then a free write there are so many levels to writing as a journalist which makes it fun. Journalism to me is like a second family because they're always there for you to help, improve, and strengthen you.
Goals: My goal on staff is to one day be able to feel accomplished with all the work I've done in journalism. And after school I plan to minor in journalism so that I can continue to write and be a journalist.
Sathina Flores, Sports Editor
May 23, 2016

KIRSTYN SIMPKINS: Throws a discus for a change

(Story)

May 16, 2016

JUSTIN HA: Rocket building in chemistry

(Story)

Mar 06, 2016

VOTERS FIND A CANDIDATE

(Story)

Mar 02, 2016

2015-2016 Eat Off

(Story)

Feb 24, 2016

OLIVER PEREZ: Expands his horizon in sports

(Story)

Jan 10, 2016

AURORA ZAMORA: Aims for improvement in track

(Story)

Oct 26, 2015

DESTINY GUZMAN: Personality adds energy to moves

(Media)

Oct 05, 2015

MARIA CASTILLO: Freshman shares her passion of cheerleading

(Story)

Sep 19, 2015

'Camp' not so hot

(Story)

Sep 19, 2015

WATER POLO MELTING POT

(Media)

Sep 14, 2015

CAM BURNETT: AP Government student shares his poltical ideology

(Story)

Aug 26, 2015

JESSICA CHAVARIN: Competitive, committed to her game

(Story/Media)

Jul 30, 2015

Artists should be awarded for talent

(Story)

Jun 02, 2015

'Tomorrowland' is an inspiring story

(Story)

May 07, 2015

Racism still alive

(Story)

Mar 19, 2015

Not short of talent

(Story)

Feb 27, 2015

Weekly Gallery 2-27

(Story)

Feb 19, 2015

WEEKLY SPORTS FOCUS: Michael Albinto

(Story/Media)

Feb 05, 2015

Aim, shoot, bullseye

(Story)

Jan 19, 2015

Teams sport Under Amour thanks to sponsorship

(Story)

Nov 14, 2014

from the PRESS BOX to the CLASSROOM

(Story)

Nov 13, 2014

Disney, Marvel bring 'A-game' with 'Big Hero 6'

(Story)

Sep 25, 2014

WEEKLY SPORTS FOCUS: Christina Martinez

(Story)

May 21, 2014

Sisters, best friends, teammates

(Story)

Dec 13, 2013

Stagg's got talent

(Story)