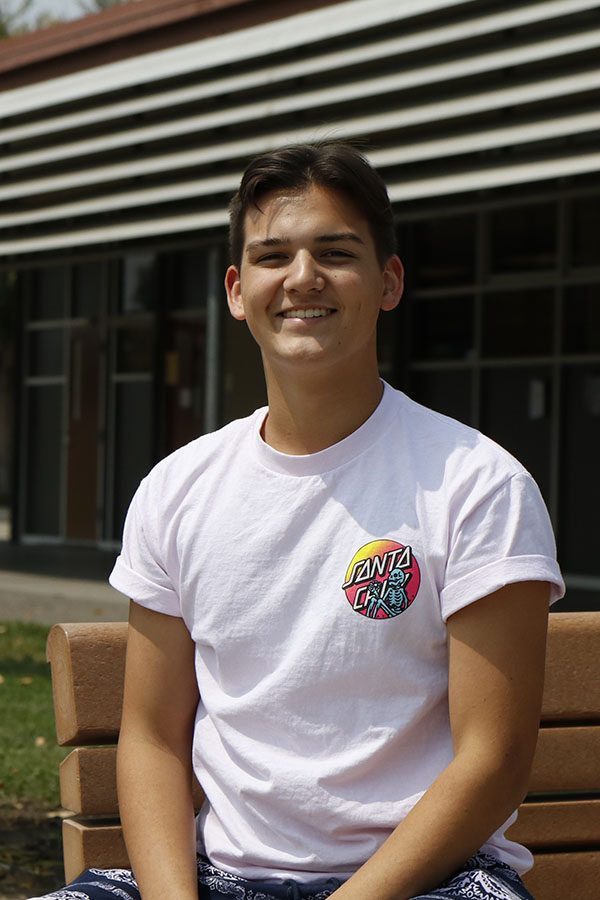 Name:
Nicholas Rosete
Position:
Sports Editor
Favorite Subject:
English and History
Fun Fact:
I am probably one of the worst mathematicians you are likely to ever meet.
Favorite Movie and Song:
Happy Gilmore &
Won't Live Here by Daniel Caesar
Hobbies:
Playing and watching a ton of soccer.
What journalism means to me:
To me, journalism is a great way for my to put my writing skills to use. I've loved writing ever since I was young and journalism allows me to do so freely. Seeing my peers read my stories is a very rewarding feeling.
Goals on staff and after high school:
My goal on staff is to create something that can serve as an example for Stagg Line journalists for years to come. After high school, my goal is to play Division 1 soccer while pursuing a degree in journalism.
Nicholas Rosete, Sports Editor
May 17, 2019

"Igor" album review

(Story)

May 16, 2019

NCAA looks to explore athlete compensation

(Story)

May 13, 2019

The happiest place on Earth… for some

(Story)

May 10, 2019

Student-athletes should be getting paid by the NCAA

(Story)

Apr 17, 2019

TIERRA DAVIS: Turning Olympic dreams into reality

(Story)

Apr 08, 2019
Feb 28, 2019

The cause of Chelsea FC's problems this season

(Story)

Feb 11, 2019

UEFA Champions League Round of Sixteen preview: AS Roma vs. FC Porto

(Story)

Feb 04, 2019

Adkins scholars program provides finical guidance

(Story)

Feb 01, 2019

Super Bowl LIII preview

(Story)

Jan 30, 2019

Cardiff City's record signing goes missing

(Story)

Dec 20, 2018

How will winter formal really go down?

(Story)

Dec 16, 2018

I logged out of social media for one week and this is what happened

(Story)

Dec 12, 2018

SARAH JOHNSON: Second year wrestling helps in more ways than one

(Story)

Nov 09, 2018
Oct 05, 2018

Web restrictions are just too strict

(Story)

Oct 05, 2018

Is the SAT relevant?

(Story)

Oct 04, 2018

How to get recruited to play collegiate sports

(Story)

Sep 19, 2018

YESSENIA RIOS-ESPARZA: Desire to try new things leads to new passion

(Story)

Sep 10, 2018

Getting 'inside water' to lead

(Media)

Sep 07, 2018

Community speaks up

(Story)

May 18, 2018

Why Kendrick deserves Pulitzer Prize

(Story)

May 03, 2018

Importance of team sports

(Story)

Apr 11, 2018

Should they stay or should they go?

(Story)

Apr 04, 2018

Phyllis Strother : Motivational father inspires love for new sport

(Story)

Mar 23, 2018

Eminem takes shots at the NRA

(Story)

Mar 09, 2018

Fortnite Taking Over

(Story)

Mar 02, 2018

Are concert tickets worth it?

(Story)

Feb 16, 2018

WEEKLY GALLERY: Boy's Soccer's White & Gold Game

(Story)

Feb 02, 2018

MUSIC FROM OTHER LANDS

(Story)

Jan 24, 2018

SOPHANA KHEN: Making varsity as a sophomore

(Story)

Jan 05, 2018

Logan Paul posts videos from suicide forest

(Story)

Dec 08, 2017

Stagg's annual Walking Tour

(Story/Media)

Oct 17, 2017

USMNT fails to qualify for 2018 FIFA World Cup

(Story)

Sep 27, 2017

FREDERICK SHADDAI: Running evokes sense of freedom

(Story)

Sep 26, 2017

Money makes soccer world go round

(Story)

Aug 31, 2017

"17" deviates from XXXTENTACION's norm

(Story)