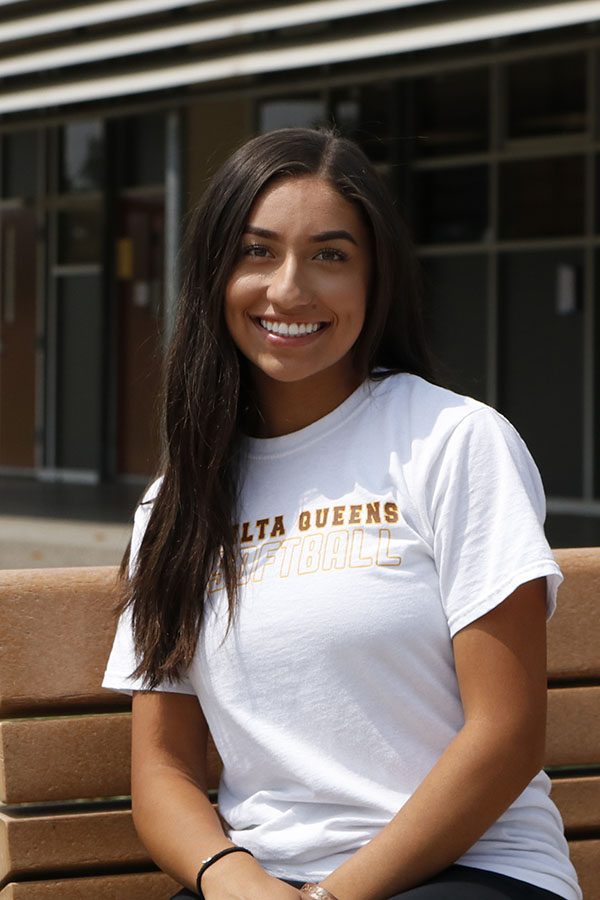 Name:
Brianna Rodriguez
Position:
News editor
Favorite Subject:
English
Fun Fact:
I have a really good memory which is quite ironic because my middle name is literally Memorie
Favorite Movie and Song:
The Sandlot and my favorite song is The Movie In My Mind from the musical Miss Saigon
Hobbies:
I collect plants, play softball, tennis and write for outside journalism projects
What journalism means to me:
Journalism is much more than just a class to me. It's shaped me into the student I am today. My views and interests have changed, youth activism is now important to me whereas it was almost non existent in my mind over a year ago . Journalism has made me aware and observant of majority things I  come across in day to day life. It has also given me a platform to express my opinions in a proper way and keep my community aware to the best of my ability. Journalism is a way for me to give back to the people around me.
Goals on staff and after high school:
My goal on staff this year is to create some of the best news stories that have major significance and help contribute as much as I can to make a nationally ranked newspaper. I also want to help my fellow writers on staff as much as I can so once I graduate they will continue to make our newspaper something special. For my plans after high school I am not quite sure anymore. My plan was to attend a private university on a softball scholarship and major in nursing but now I am considering majoring in broadcast journalism at USC.
Brianna Rodriguez, News Editor
May 17, 2019

Grumpy Cat passed away

(Story)

May 15, 2019

THOMAS JONES: Inspired by professional athlete

(Story)

May 10, 2019

James Charles is canceled

(Story)

Mar 15, 2019

Wealthy parents a part of college admissions cheating scandal

(Story)

Mar 14, 2019

Tattoos, useful or useless?

(Story)

Mar 13, 2019

JANELLE PHARMS: Sibling inspires exploration

(Story)

Mar 01, 2019
Feb 01, 2019

Junior develops a love for alligators

(Story)

Feb 01, 2019

First-year electives looking to find dedicated students

(Story)

Jan 18, 2019

KOBE TEI: Basketball runs in the blood

(Story)

Jan 16, 2019

Seniors develop propositions to create change

(Story)

Dec 18, 2018

Is Winter Formal here to stay?

(Story)

Dec 16, 2018

Ariana Grande's 'thank u, next' music video No.1 on charts

(Story)

Nov 09, 2018

ANDREW TOBLER: Veteran to newcomer

(Story)

Oct 05, 2018

More than just fundraising

(Story)

Oct 05, 2018

STAGG PRIDE INSIDE & OUTSIDE

(Story)

Oct 04, 2018

Thrift store prices rapidly increasing

(Story)

Oct 03, 2018

Are students doing community service for the right reasons?

(Story)

Sep 12, 2018

MARKELL SHELTON: Football used as motivation in school

(Story)

Sep 10, 2018

Crocs: the new trend

(Story)

Sep 07, 2018

Bringing back old traditions

(Story)

May 23, 2018

'The Hate U Give': Reveals racism and police brutality

(Story)

May 22, 2018

Teen causes fire ordered to pay $36 million

(Story)

May 18, 2018

Back-to-back champions

(Story)

May 17, 2018

Promposal reveals racism in our society

(Story)

May 17, 2018

ROMAN AMEPEROSA: Follows in father's footsteps

(Story)

Apr 13, 2018

Summer league swim program helps Lornson

(Story)

Mar 16, 2018

WEEKLY GALLERY: SAT Prep class

(Story)

Mar 02, 2018
Feb 28, 2018

Are we really heard?

(Story)

Feb 21, 2018

ZACHARY MARTINEZ: Hopes to follow sister's legacy

(Story)

Feb 13, 2018

Change for the worst?

(Story)

Feb 02, 2018

Flu season 2018: Worst since 2009

(Story)

Feb 02, 2018

Varsity: Make it or break it

(Story)

Jan 03, 2018

'Pitch Perfect 3' a let down at the very least

(Story)

Jan 02, 2018

Kylie Cosmetics causes public outrage

(Story)

Dec 11, 2017

White House or prison?

(Story)

Nov 30, 2017

FENTY BEAUTY creates the perfect lip gloss

(Story)

Nov 08, 2017

JASON PHILLIPS: Mindset gives confidence

(Story)

Nov 07, 2017

Saipov first to commit terrorist attack in New York since 9/11

(Story)

Nov 01, 2017

Will Smith: time to give up the music

(Story)

Oct 02, 2017

Jhene Aiko lets us in on her healing process with "Trip"

(Story)

Sep 27, 2017

Technology over toys?

(Story)

Sep 15, 2017

Selena Gomez opens up about her kidney transplant

(Story)

Sep 13, 2017

LUCAS NINCIONI: Keeping in shape

(Story)

Sep 08, 2017

Freshman cheer squad takes it to the top

(Story)

Aug 28, 2017

NFL Seth DeValve brings social awareness

(Story)