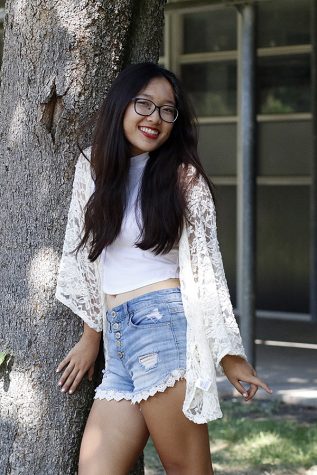 Position:
2016-2017 Opinion Editor, 2017-2018 Features Editor
Nickname(s):
Steph, Matsumoto
Fun Fact:
I'm a lean mean fighting machine.
Hobbies:
Watching Disney movies, traveling, playing tennis, pretending to be good at things, eating 90% of the time.
Why I joined journalism and what it means to me:
I first started out taking Journalism because my mom suggested it to me. However, I ended up falling in love with the class and everything I learned in it. It taught me so much more than anything else could have about writing, taking pictures, making graphics, etc and I couldn't be more grateful.
Goals on staff and after high school
: Well, obviously I want to help make the staff as great as it can be by doing my part and supporting others. As for future goals, ask me in like 8 months. <3
Stephanie Matsumoto, Features Editor
May 18, 2018

Seniors enjoy first Grad Nite in years

(Media)

May 18, 2018

'Infinity War' exceeds expectations

(Story)

Apr 18, 2018

KEVIN PHAN: Salutatorian manages school and sports

(Media)

Apr 16, 2018

APRIL GRANT: First music festival experience

(Media)

Apr 13, 2018

Summer league swim program helps Lornson

(Media)

Apr 06, 2018

Former bully should step down from school district

(Story)

Apr 04, 2018

The end of Toys 'R' Us

(Story)

Mar 21, 2018

NATE BONES: New sport offers more possibilities

(Story/Media)

Mar 08, 2018

LAMONTE WALKER: Practicing since he was young

(Media)

Mar 02, 2018

Black Panther claws its way to the top

(Story)

Mar 02, 2018

Can history keep us from repeating our mistakes?

(Story)

Feb 23, 2018

Giving teachers guns is a poor choice

(Story)

Feb 20, 2018

Cape Town crisis is a lesson

(Story)

Feb 15, 2018

The tale of Mardi Gras

(Media)

Feb 02, 2018

Legal pot is a mistake

(Story)

Jan 30, 2018

Grammys is for more than just music

(Story)

Jan 03, 2018

'The Last Jedi' has flaws but worth the watch

(Story)

Dec 15, 2017

WEEKLY GALLERY: Winter music concerts bring holiday cheer

(Story/Media)

Dec 12, 2017

People should stay out of Martinez accusation

(Story)

Dec 11, 2017

ATHINA BASILIO: Student shows her frustration with dysfunctional theater

(Story)

Dec 08, 2017

WEEKLY GALLERY: Varsity wins against River City

(Story)

Nov 30, 2017

Sexist makeup app should not be bought

(Story)

Nov 09, 2017

BSA adds girls to raise numbers

(Story)

Nov 09, 2017

Colorful for a cause

(Story)

Nov 09, 2017

Grant kickstarts band program

(Media)

Nov 03, 2017

Delta Kings and Queens gather at Royal Assembly

(Story/Media)

Nov 01, 2017

RYENN AGBULOS: Losing isn't a total loss

(Story)

Oct 06, 2017

Rescuing dogs gives purpose

(Story)

Oct 05, 2017

Time for action is now Congress

(Story)

Sep 28, 2017

Clubs should be held in higher regards

(Story)

Sep 21, 2017

Pewdiepie's racist actions finally coming to light

(Story)

Sep 02, 2017

Homecoming King Nominees for 2017

(Story)

Sep 02, 2017

Homecoming Queen Nominees for 2017

(Story)

Aug 16, 2017

ARIANA RAYGOZA: Freshman finds inspiration, courage at cheer camp

(Story)

May 15, 2017

'Guardians of the Galaxy Vol.2' has humor and stunning effects

(Story)

Apr 24, 2017

ERIKA GARCIA: Taping it up at prom

(Story)

Apr 10, 2017

CARTOON CONTROVERSY

(Story)

Apr 10, 2017

STUDENTS: Bonding with one another

(Story)

Mar 17, 2017

WEEKLY GALLERY: Colorful collages

(Story)

Mar 06, 2017

MIA JACKSON: Confident for Choir Concert

(Story)

Feb 24, 2017

WEEKLY GALLERY: Point Break helps kids open up

(Story)

Feb 17, 2017

WEEKLY GALLERY: French students prepare Mardis Gras projects

(Story/Media)

Feb 08, 2017

TENIYAH WASHINGTON: Coaching cheer gives a new perspective

(Story)

Jan 30, 2017

MARGARITA THOMAS: Criminal justice class expected to help with career goals

(Story)

Dec 14, 2016

CARL MIRAL: Improving on a new mat

(Story)

Dec 05, 2016

Students get information at Hispanic College and Career Fair

(Story/Media)

Nov 28, 2016

PENELOPE BOWDEN: A crack at ballet

(Story)

Nov 24, 2016

'Moana' leaves a refreshing feel in the Disney franchise

(Story)

Nov 16, 2016

KARIS CARTER: Freshman reaches above the net to varsity

(Story)

Nov 10, 2016

Swinging for recognition

(Story)

Nov 04, 2016

WEEKLY GALLERY: Students show spirit for Halloween

(Story)

Oct 26, 2016

Student musicians perform all day for Educoncert

(Story)

Oct 26, 2016

NICO PEREZ: A break for the season

(Story)

Sep 19, 2016

'Blair Witch' is horrifyingly uninteresting and unwatchable

(Story)

Sep 19, 2016

JACOB LLOYD: Coastal cleanup promotes community involvement

(Story)

Sep 14, 2016

Luna's voice influences LGBT funding

(Media)

Sep 07, 2016

ASHLEY BUFFO: Swinging for success

(Story)

Sep 02, 2016

60 Minute Rush: Students sign up, enjoy food from clubs

(Story)

May 16, 2016

Seniors paint their past

(Story)

May 04, 2016

MARISSA PIMENTEL: Brother ignites soccer passion

(Story)

Apr 25, 2016

BRYANNA RODRIGUEZ: College and career fair experience

(Story)

Apr 20, 2016
Mar 14, 2016

KARLAIJA HARDIAMON: Drama allows student to be herself

(Story)

Feb 19, 2016

WEEKLY GALLERY: Swimming, serving, and sprinting

(Story)

Feb 05, 2016

WEEKLY GALLERY: Behind the scenes of Mardi Gras

(Story)

Feb 03, 2016

ALEJANDRO FIGUEROA: Wrestling off the mat

(Story)

Feb 02, 2016

KCRA 3 reports on campus

(Story)

Dec 23, 2015

What I learned on my summer vacation

(Story)

Dec 14, 2015

HAILEY EDWARDS: Christmas time is family time

(Story)

Nov 30, 2015

SAMANTHA BAKER: Volunteering brings benefits

(Story)

Nov 23, 2015

'Mockingjay Part 2' wraps up Hunger Games series

(Story)

Nov 04, 2015

MARIPOSA GUERRERO: Relief in running

(Story)

Sep 28, 2015

ZAC LIEL: Discusses the changes of seasons

(Story)

Sep 25, 2015

WEEKLY GALLERY: 'Take one' with drama

(Story)

Sep 22, 2015

Coastal Cleanup invites a change

(Story)

Sep 19, 2015

Summer without water

(Story)

Sep 09, 2015

KIMBERLY SOM: AVID student sees benefit in program

(Story)