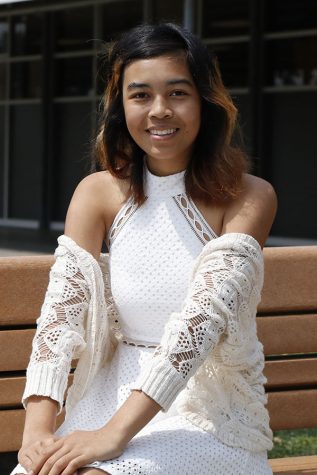 Name:
Serina Sieng
Position:
Graphics Editor
Favorite
Subject: My favorite school subjects are Art & Graphic Design.
Fun Fact:
I play two sports, cross country and badminton.
Favorite Movie and Song:
I love the movie Lilo and Stitch. My favorite song is Awolnation- Kill Your Heroes
Hobbies:
My hobbies are aquarium and pond maintenance, I care for a small school of 60 guppies. I am on my 5th generation. I love landscaping and seeing the fish observe the new changes. I also draw and animate on my free time, I do commissions.
What journalism means to me:
I've wanted to be on staff since 5th grade, when my sister brought home an issue. How would I describe journalism? From a year worth of experience, I will tell you that it requires creative thought and teamwork. At the end of the day, it makes me feel accomplished.
Goals on staff and after high school:
As Art and Graphics editor for newspaper, I want to become better and faster at creating art. I also want to become better at filming and editing videos.
Serina Sieng, Art & Graphics Editor
Apr 29, 2019

JESSICA KUNZ: Learning to skate

(Story/Media)

Apr 05, 2019
Apr 05, 2019

Ranting isn't healthy

(Media)

Mar 11, 2019

PAULINA SILVA: Being ASB treasurer

(Story/Media)

Mar 01, 2019
Mar 01, 2019
Feb 11, 2019

Learning languages aids communications skills

(Media)

Feb 01, 2019

Diverse casts in Hollywood

(Media)

Dec 20, 2018

Not a Merry Christmas

(Media)

Dec 18, 2018

Risa Kinard: Writing In Cursive

(Story/Media)

Nov 09, 2018

Breast feeding in public shouldn't be frowned upon

(Media)

Nov 09, 2018

Gender Neutral Fashion

(Media)

Oct 29, 2018

Aaliyah-Aliza'e Arther: Love for writing

(Story/Media)

Oct 05, 2018

Disney classics overshadow newer shows

(Media)

Sep 24, 2018

MARIO ABLERT: Aiming for class valedictorian

(Story/Media)

Sep 04, 2018

Free Breakfast

(Story/Media)

Aug 28, 2018

Deep Tewari: Investing in stocks

(Story)

May 18, 2018

Health matters most

(Media)

Apr 11, 2018

The classifications of Love

(Media)

Apr 13, 2018
Apr 03, 2018

PAUL MARTINEZ: YouTube streamer

(Story)

Mar 02, 2018

Finding inspiration from famous women

(Media)

Mar 02, 2018

Can history keep us from repeating our mistakes?

(Media)

Feb 07, 2018

Super Bowl commercials take the spotlight

(Media)

Feb 02, 2018

MUSIC FROM OTHER LANDS

(Media)

Feb 02, 2018

Legal pot is a mistake

(Media)

Dec 12, 2017

Will Hero system work for our high school?

(Media)

Nov 09, 2017
Nov 13, 2017

JOSEPH LOGAN: Talented in band

(Story/Media)

Nov 09, 2017

Getting to kick down under

(Media)

Oct 06, 2017

Learning to play 'all around'

(Media)

Sep 25, 2017

NADIA DUTRA: Korean Club brings fans together

(Story)

Sep 08, 2017

GEOFFERY ALLEN: Applying previous skills to new sport

(Story)