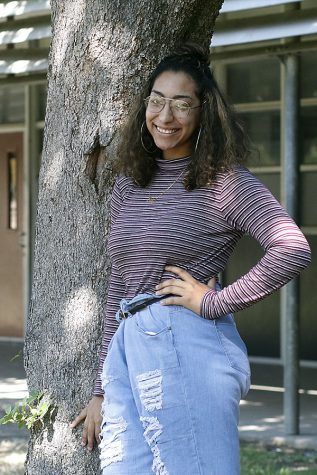 Position:
2016-2017 Sports Editor, 2017-2018 Editor In Chief
Nickname(s):
Saw-ruh
Fun Fact:
I wrote a book and I do the splits, just ask
Hobbies:
Dancing, writing poetry, playing with my dogs, and volunteering at the animal shelter.
Why I joined journalism and what it means to me:
I joined journalism because I have a passion to just write. Give me a computer screen with a side of interview notes and I'll give you a story. Journalism is much more than just writing to me, it's expressing the voice of Stagg high school and the outside world. It's expressing what you're capable of doing. If I didn't join journalism I would probably be in something boring like yearbook.
Goals on staff and after high school:
Go to a four year university to study law to get my bachelors and masters degree and then after that go into law school to get my J.D.
Sara Abdeltawab, Editor-in-Chief
May 18, 2018

Seniors enjoy first Grad Nite in years

(Story)

Apr 22, 2018

PENELOPE BOWDEN: Thoughts on editorship hold positivity

(Story)

Apr 20, 2018

SPIRIT WEEK: April 23 – 27

(Story/Media)

Apr 13, 2018

Knockoff films lack originality

(Story)

Apr 13, 2018

Writers learn to express emotions with poetry

(Media)

Apr 10, 2018

ProjectPROMPOSAL

(Story/Media)

Apr 06, 2018

WEEKLY GALLERY: From start to finish

(Story/Media)

Mar 13, 2018

Junior class puts on a movie night

(Story)

Mar 02, 2018

AP classes worth challenge

(Story)

Feb 15, 2018

The tale of Mardi Gras

(Media)

Feb 09, 2018

WEEKLY GALLERY: Students show their spirit

(Story/Media)

Feb 02, 2018

Varsity: Make it or break it

(Media)

Feb 02, 2018

Scholarship program to open doors

(Story)

Jan 24, 2018

Spirit Week: Feb. 5th – Feb 9th

(Story/Media)

Jan 09, 2018

New Years unites culture

(Story/Media)

Dec 12, 2017

Mass shootings spark gun debate

(Story)

Dec 01, 2017

WEEKLY GALLERY: After school mania

(Story/Media)

Nov 30, 2017

FENTY BEAUTY creates the perfect lip gloss

(Media)

Nov 15, 2017

ELIJAH MENCHACA: Football helps adjust to new school

(Media)

Nov 09, 2017

Using platforms to bring light to social issues

(Story)

Oct 30, 2017

J'CEYONNA DESOTO: Cancer Awareness activities hit close to home

(Story)

Oct 29, 2017

Spirit Week: Oct. 27th – Nov. 3rd

(Story)

Oct 20, 2017

WEEKLY GALLERY: Students test poking theory

(Story)

Oct 06, 2017

Noticing signs of suicide is important

(Story)

Oct 06, 2017

Learning to play 'all around'

(Story)

Sep 27, 2017

FREDERICK SHADDAI: Running evokes sense of freedom

(Media)

Sep 25, 2017

Keeping the tradition

(Story/Media)

Sep 22, 2017

ALEXIS GONZALES: Safer environment brings a positive attitude

(Story)

Sep 11, 2017

All around wins for homecoming 2017

(Story/Media)

Sep 08, 2017

Free Speech In Conflict

(Story)

Sep 02, 2017

Homecoming King Nominees for 2017

(Story)

Sep 02, 2017

Homecoming Queen Nominees for 2017

(Story)

Apr 10, 2017

VIDEO: Recording emotions

(Story)

Apr 10, 2017

Travel ban is a racist attack on every Muslim

(Story)

Mar 13, 2017

Sophomore class pulls off spring fling

(Story/Media)

Feb 27, 2017

TA'VEONE TAYLOR: Dance helps become exposed to new choreography

(Story)

Feb 24, 2017

WEEKLY GALLERY: Point Break helps kids open up

(Story)

Feb 15, 2017

FELIX MOLINA: Stepping back on the pitch

(Story)

Feb 06, 2017

BRIANNA RODRIGUEZ: Middle school violinist opens up circle

(Story)

Feb 03, 2017

'CRITICS CALLED IT…'

(Story)

Feb 02, 2017

Basketball shoots for league title

(Media)

Jan 19, 2017

SUSPENDING THE SUN: Students' perspective of the storms

(Story)

Dec 05, 2016

JORDYN GARCIA: A love for Disney

(Story)

Dec 05, 2016

Overfilled furry friends

(Story/Media)

Nov 30, 2016

Andrew Muthart: Race has no boundaries

(Story/Media)

Nov 10, 2016

Lessons From Juvenile Hall

(Story)

Nov 07, 2016

Friday night lights come to an end

(Story)

Oct 18, 2016

Cross country has mud run fun

(Story/Media)

Oct 07, 2016
Oct 05, 2016

MARIELE JONES: Fought her way to the top

(Story)

Sep 30, 2016

WEEKLY GALLERY: Diffusion lab

(Story)

Sep 21, 2016

ERNESTO VALENCIA: Changing courses

(Media)

Sep 12, 2016

HELEN AlCAUTER: Writing opens up more than just thoughts

(Story)

Aug 31, 2016

LIZZETE RAMOS: Perks of being a cross country runner

(Story/Media)

Aug 26, 2016

WEEKLY GALLERY: Rise and shine class of 2017

(Story/Media)

Aug 12, 2016

WEEKLY GALLERY: Morning rally kicks off year right

(Story/Media)

Jul 28, 2016

Publicity Stunt or the Sad Truth

(Story)

Jul 08, 2016

Whose life really matters

(Story/Media)

May 20, 2016

Beyonce, Drake albums leave many with questions

(Story)

May 11, 2016

GEOFFREY ALLEN: A snap to reality

(Story)

May 06, 2016

WEEKLY GALLERY: And they're off

(Story/Media)

Apr 17, 2016

Next year's schedule causes mixed feelings

(Story)

Apr 15, 2016

WEEKLY GALLERY: A day in the Bay

(Media)

Apr 08, 2016

Stagg vs Chavez kicks off the powderpuff season

(Story/Media)

Mar 28, 2016

KEVIN GUTIERREZ: Graphic design and photography helps pursue greater achievements

(Story)

Mar 04, 2016

'Race' presents no hurdles

(Story)

Mar 04, 2016

CHEWING ON TOBACCO

(Story)

Feb 10, 2016

VERONICA RAMIREZ: Overcomes injuries for soccer

(Story)

Feb 08, 2016

PHILLIP STROTHER: Perks of being a twin

(Story)

Feb 01, 2016

ALANA LUJAN: Dance opens up opportunities

(Story)

Jan 22, 2016

WEEKLY GALLERY: Winter sports start conditioning

(Story)

Nov 18, 2015

CHLOE AULD: Cheer brings sense of confidence

(Story)

Nov 06, 2015

WEEKLY GALLERY: At lunch we 'click'

(Story/Media)

Oct 19, 2015

CELESTE MASUDA: Strives for yearbook recognition

(Story)

Sep 30, 2015

WEEKLY GALLERY: Homecoming

(Story/Media)

Sep 22, 2015

Meet your Homecoming King candidates

(Story)

Sep 22, 2015

Meet your Homecoming Queen candidates

(Story)

Sep 12, 2015

BEATING THE HEAT

(Story/Media)

Sep 09, 2015

CHARMAIGNE GRESHAM: Senior year pushes athlete for success

(Story)