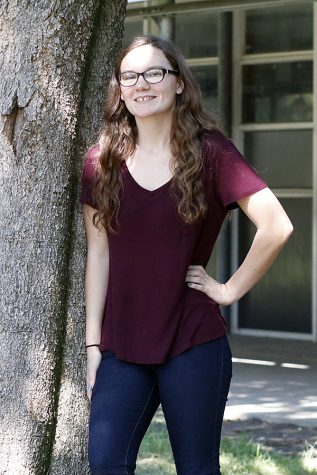 Position:
2017-2018
2017-2018 Opinion Editor
Nickname(s):
Sam, Sammie, Mantha (nickname reserved for Matsumoto only)
Fun Fact:
I lost a toenail once.
Hobbies:
Baking, cooking, reading
Why I joined journalism and what it means to me:
I joined journalism out of curiosity and because of Matsumoto. Not only do you get to write intriguing and captivating stories, but you also learn life skills, like to be assertive or to take initiative.
Goals on staff and after high school:
My goals include not to procrastinate so much, create good page designs, pay attention to details, and to keep writing great stories. After high school I plan to attend college and live a good and fruitful life.
Samantha Baker, Opinion Editor
May 24, 2018

Europe sets regulations to protect user data

(Story)

May 24, 2018

New hobby: gene editing

(Story)

Apr 13, 2018

Writers learn to express emotions with poetry

(Story)

Mar 23, 2018

Musk deletes profiles after Facebook scandal

(Story)

Mar 22, 2018

Starbucks design challenge encourages eco-friendly thinking

(Story)

Mar 19, 2018

School start times should be delayed

(Story)

Mar 15, 2018

JESELLE PEREZ: Step-father inspires drive to play softball

(Story)

Feb 15, 2018

The tale of Mardi Gras

(Media)

Jan 05, 2018

Hollywood joins 'Time's Up' to stand against sexual harassment

(Story)

Jan 01, 2018

Chief Justice Roberts starts initiative for sexual harassment

(Story)

Dec 30, 2017

Ito sheds light on sexual harassment in Japan

(Story)

Nov 15, 2017

ELIJAH MENCHACA: Football helps adjust to new school

(Story)

Oct 06, 2017

Food fight fiasco

(Story)

Oct 06, 2017

With suicide, awareness is key

(Story)

Oct 01, 2017

Trump should boost morale, not complain

(Story)

Sep 02, 2017

Homecoming King Nominees for 2017

(Story)

Sep 02, 2017

Homecoming Queen Nominees for 2017

(Story)

Aug 30, 2017

KARIS CARTER: A sister's inspiration

(Story/Media)

Apr 10, 2017
Mar 29, 2017

GREGORY CHRISTY: Finding new interests

(Story)

Mar 01, 2017

EDWIN HIDALGO: A necessity turned into a new interest

(Story)

Jan 04, 2017

JULIE NINCIONI: Father inspires basketball desire

(Story/Media)

Sep 21, 2016

ERNESTO VALENCIA: Changing courses

(Story)