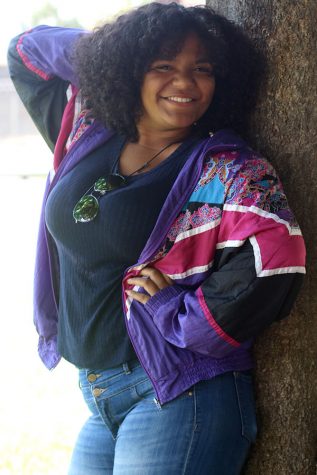 Position: 
2015-2016 Features Editor 2016-2017 Editor in Chief
Nickname(s):
Bear, Daddy
Fun Fact: 
Hobbies: 
I enjoy reading and travelling.
Why I joined journalism and what it means to me:
Journalism provides me with a motivation I would lack otherwise. Being the voice for those who would otherwise go unheard is something I enjoy now, and know I will enjoy in the future. My love for journalism will never die, whether it be me reporting or appreciating someone else's.
Goals on staff and after high school:
While winning is not everything, I am a naturally competitive person. I want and have wanted this paper to be better than ever before, so that next year they can reach even higher, accomplish more and so on.
Phillicity Uriarte-Jones, Editor in Chief
Apr 10, 2017

OFFICIALS: Serving a larger purpose

(Story)

Apr 10, 2017

VIDEO: Recording emotions

()

Apr 10, 2017

Healthy Start should not see its end

(Photo)

Feb 03, 2017

PSA cadets learn basics of music, prep for future

(Story)

Nov 09, 2016

Society promotes sexualized costumes

(Story)

Oct 10, 2016

ANDREW CALDERON: Presidential candidates both disappointing

(Story)

Sep 29, 2016

2016-17 Homecoming Recap

(Story)

Sep 14, 2016

Year starts with crowded counseling office, classes

(Story)

Aug 17, 2016

LEONARDO LEON: Swimming toward big things

(Story)

May 28, 2016

SCHEDULE CHANGE: Students Affected

(Story)

May 22, 2016

'Sleepless' puts you to sleep

(Story)

May 13, 2016

A Future to Believe in Stockton

(Story)

Apr 19, 2016

Wrestlers worry as disease spreads

(Story)

Apr 15, 2016

Living on the Minimum

(Story)

Mar 05, 2016
Feb 12, 2016

'Deadpool' doesn't disappoint

(Story)

Feb 07, 2016

'Formation' helps form new opinions

(Story)

Dec 18, 2015

THE FORCE 'AWAKENS' FANS

(Story)

Dec 07, 2015

'Jessica Jones' is a dark binge watch

(Story)

Nov 24, 2015

PUMPKIN SPICE HYPE

(Story)

Oct 06, 2015

2015-2016 Homecoming Recap

(Story)

Sep 18, 2015

Remember it's a sin to kill a classic book

(Story)

May 18, 2015

Think before sending

(Story)

May 15, 2015

Alarming trend catches attention

(Story)

Apr 24, 2015

Military inheritance

(Story)

Feb 05, 2015

WEEKLY SPORTS FOCUS: Diana Centeno

(Story)

Feb 03, 2015

Domestic violence awareness during Super Bowl matters

(Story)

Jan 16, 2015

Two years of free community college brings hope

(Story)

Oct 30, 2014

WEEKLY SPORTS FOCUS: Christian Salmasan

(Story)

Oct 10, 2014

Prisons vs. schools

(Story)

Oct 06, 2014

'Kids In A Box' experience shows purpose

(Story/Photo)

May 14, 2014

Ready, set, apply

(Story)

Feb 05, 2014

WEEKLY SPORTS FOCUS: Roxana Vigil

(Story)