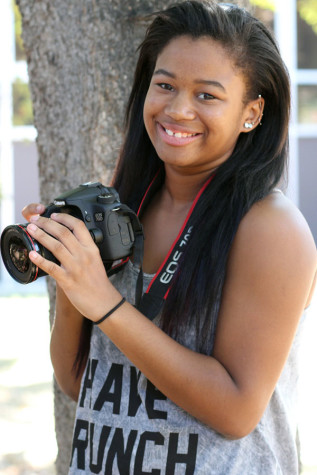 Position: Photo Editor (2015-2016)
Nickname(s): Mickey
Fun Fact: I'm one of those people who have a really disgusting laugh.
Hobbies: reading, writing, a passion for fashion, and Pinterest Queen, and hardcore Tumblr reblogger
Why I joined journalism: I was really into graphics, so I decided to take Graphic Design and Photography. I had no idea Mr. Bott would have a huge impact on me, and I was recruited onto the Stagg Line. As I've grown in the class, I found a real and true passion for photography; and really feel like it's something I will pursue in some way when I'm older. I think it's really awesome to be in a class where everyone loves the same thing: journalism.
Goals: Now that I know more, I'd love to help the less experienced kids to also find their passion in journalism. And one day, I would like to be a photographer, or maybe be a part of a newspaper, like the Stockton Record, for example. When I'm older, I know for sure I'd love to do something involving journalism.
My'Kayla Moore, Photo Editor
May 20, 2016

Beyonce, Drake albums leave many with questions

(Photo)

May 03, 2016

BRISEYDA MORALES: Teacher appreciation week

(Story)

Apr 08, 2016

WEEKLY GALLERY: Bear Creek vs. Stagg

(Story)

Apr 08, 2016

Justin Bieber gets bad feedback for new hairstyle at iHeartRadio Awards.

(Story)

Feb 26, 2016

WEEKLY GALLERY: Students wear the rainbow

(Story/Photo)

Oct 30, 2015

WEEKLY GALLERY: Teachers personalize classrooms

(Story/Photo)

Oct 28, 2015

LESLEI LOPEZ: Player juggles multiple sports

(Story)

Sep 30, 2015

WEEKLY GALLERY: Homecoming

(Story/Photo)

Sep 23, 2015

Varsity takes their first win.

(Story/Photo)

Sep 22, 2015

WEEKLY GALLERY: Club Rush attracts a crowd

(Story)

Sep 18, 2015

All students entitled to free meals for years

(Photo)

Sep 11, 2015

WEEKLY GALLERY: Chemistry students conduct their first lab of the year

(Story)

Aug 21, 2015

WEEKLY GALLERY: Ready! Set! Cheese!

(Story)

May 29, 2015

Powder, buff puff create battle of classes, staff

(Photo)

May 15, 2015

BRIANNA ALFORD: Two sports, one passion

(Story)

May 14, 2015

Players before family

(Photo)

May 01, 2015

'BIG COUNTRY BASEBALL'

(Photo)

Apr 29, 2015

Military provides opportunity

(Photo)

Apr 03, 2015

Swing and swim at Stagg

(Story/Photo)

Mar 30, 2015

Stagg competes against other schools in MESA's biggest event of the year

(Photo)

Mar 19, 2015

Rixton's debut album is very "Appreciated"

(Story)

Mar 06, 2015

Weekly Gallery 3-6

(Story/Photo)

Mar 06, 2015

Lucianne Gomez: Junior wrestles for the first time

(Story)

Jan 08, 2015

WEEKLY SPORTS FOCUS: Nicole Richards

(Story)

Nov 07, 2014

Weekly Gallery 11-07

(Story/Photo)

Sep 05, 2014

Weekly Gallery Sept. 5

(Story)