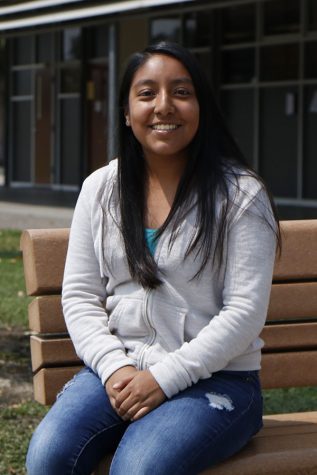 Name:
Monzerrath Martinez
Position:
Reporter
Favorite Subject:
My favorite subject is math specifically algebra.
Fun Fact:
I love watching YouTube videos some of my favorite people that I watch are Emma Chamberlain and Shane Dawson.
Favorite Movie and Song:  
I really like several movies. I can't just choose one so I'll list my top three, "Clueless", "Forrest Gump", and "A Walk to Remember."
It's difficult to choose one favorite song but I love all of Taylor Swift's albums.
Hobbies:
My hobbies are playing tennis and listening to music.
What journalism means to me/Why you joined:
I first heard about journalism during my freshman year when our staff member Maria Castillo interviewed me and I was featured in a video for the class. My sophomore year Maria and I had Spanish class together I remember reading a writing assignment aloud in class and after class she commented on my writing and said it was good and that I should consider joining journalism my junior year. About a month later Mr. Sherman was asking what classes I would be taking junior year and I mentioned wanting to join journalism. He was thoughtful enough to email Mr. Bott and tell him about me. That same day I was able to talk to Mr. Bott about my interest in the class. Then we agreed that I would stay for a late day and write a story to get a feeling of what it would be like to be in the class. After going through the process I added journalism to my schedule. My first weeks in journalism have been great. The people on staff are nice but I must admit that at times they still intimidate me. The part I currently enjoy the most is going through the interview process.
Goals on staff and after high school:
 One of my goals for this year is to improve  my writing. It is also a priority to become more involved in open discussions. After high school I know I would like go to a college or university but I'm undecided in what area.
Monzerrath Martinez, Reporter
May 10, 2019

Special Olympics a success

(Story)

Apr 19, 2019

WEEKLY GALLERY: Two solutions lab

(Story)

Apr 12, 2019

WEEKLY GALLERY: Inked teens

(Story/Media)

Mar 07, 2019

Stagg holds an Every 15 Minutes presentation

(Story)

Feb 08, 2019

WEEKLY GALLERY: Tennis boys try outs

(Story/Media)

Nov 30, 2018

WEEKLY GALLERY: Getting greasy in autoshop

(Story/Media)

Nov 02, 2018

WEEKLY GALLERY: Stagg Spooktacular Trunk-or-Treat

(Story/Media)

Oct 03, 2018

The undefeated become defeated

(Story/Media)

Sep 28, 2018

WEEKLY GALLERY: Stagg Boys Water Polo VS. Edison

(Story/Media)