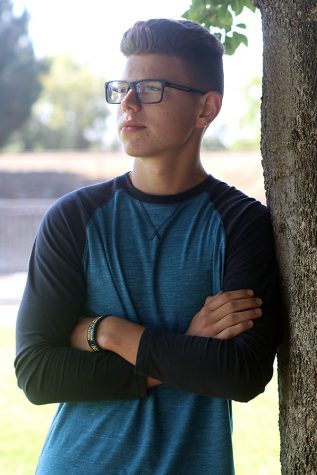 Position: 
2015-2016 Opinion Editor 2016-2017 News Editor
Nickname(s):
SwaggyMattyD
Fun Fact: 
I'm originally from Hawaii.
Hobbies: 
Working out. Talking about the Navy. Watching, and analyzing movies.
Why I joined journalism and what it means to me: 
I was signed up for journalism by my cousin my freshman year and slowly but surely fell in love with it. At first it was a hassle but I later realized it is my outlet to be the outgoing and charismatic person I really want to be.
Goals on staff and after high school: 
My goal on staff is to be a strong leader and be that person that brings inspiration and determination with them as they walk in the room. After high school, it's no secret that I want to join the United States Navy but my ultimate goal is to be appointed to the United States Naval Academy.
Matteo Danforth, News Editor
Apr 10, 2017

'Riverdale' sets new standard for teen dramas

(Story)

Mar 09, 2017

Every 15 Minutes- Stagg 2017

(Story)

Mar 03, 2017

Actions speak louder

(Story)

Feb 03, 2017

Problems will persist despite the recent rains

(Story)

Jan 20, 2017

Freeing a National Hero

(Story)

Nov 10, 2016

Has rock and roll split?

(Story)

Nov 10, 2016

Freedom Festival Speaks to Younger Generations

(Story)

Nov 01, 2016

Stockton's Mayoral Race

(Story)

Sep 29, 2016

2016-17 Homecoming Recap

(Story)

Sep 14, 2016

Luna's voice influences LGBT funding

(Story)

Sep 13, 2016

2016 Homecoming King Candidates

(Story)

Sep 13, 2016

2016 Homecoming Queen Candidates

(Story)

Aug 31, 2016

COFFEE WITH THE POLICE: Silva on Engaging Citizens with Law Enforcement

(Story)

Aug 31, 2016

F Your Diet: House of Ice Cream Offers Deliciously Fattening Treats

(Story)

Aug 23, 2016

NATALIE O'NEAL: Getting the Team Ready

(Story)

May 28, 2016

SCHEDULE CHANGE: Students Affected

(Story)

May 13, 2016

A Future to Believe in Stockton

(Story)

Apr 12, 2016

Hiroshima visit is a historic event

(Story)

Feb 19, 2016

Apple's privacy decision is rash

(Story)

Feb 05, 2016

Erin Brockovich shares opinions on chloramines at town hall meeting

(Story)

Nov 24, 2015

PUMPKIN SPICE HYPE

(Story)

Nov 13, 2015

Science starts next generation

(Story)

Oct 06, 2015

2015-2016 Homecoming Recap

(Story)

Sep 22, 2015

WEEKLY GALLERY: Club Rush attracts a crowd

(Story)

Aug 24, 2015

ANDRU CLAYTON: Family inspires tattoos

(Story/Video)

May 15, 2015

Rubik's Cube Fight Night

(Video)

Mar 30, 2015

Teens learn gun safety through family

(Story)

Feb 13, 2015
Feb 10, 2015

Senior puts trauma of Katrina in past

(Photo)

Feb 03, 2015

Features special preview of Katrina survivor

(Video)

Jan 26, 2015
Jan 20, 2015
Nov 26, 2014

Hard time VUEing grades for all teachers

(Story)

Nov 07, 2014
May 20, 2014

Going to the show

(Story)