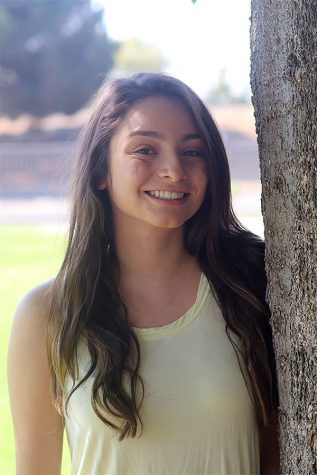 Position: 
Reporter
Nickname(s):
Maria Taco, Castillo (pronounced castiyoooo)
Fun Fact: 
Sometimes I get really hyper. Most of the time actually.
Hobbies: 
Listen to music and annoy Stephanie.
Why I joined journalism and what it means to me:
When I was an incoming freshman, I had signed up to take journalism 1 because I wanted to become a better writer (I still do), but I ended up getting put into graphic design and photography and I realized that I liked designing and loved taking great quality pictures. I then wanted to join journalism to have the opportunity to take stupendous pictures and create stories. Journalism to me means a way to express your ideas. It's a way to let your creativity and imagination set free.
Goals on staff and after high school:
My goals on staff this year are to work well with the other staff members, put dedicated work on the StaggLine, and become a better writer and photographer. After high school I want to go to college, but right now I'm not so sure where I want to attend. I have my eye on UCSD, but with all the options, I'm still thinking of where I can see my future.
Maria Castillo, Reporter
May 15, 2017

Teammates take the lead in track

(Story)

May 12, 2017

Vaccines: the unknown importance

(Story)

May 01, 2017

MONZERRATH MARTINEZ: Spanish project helps connect with culture

(Story)

Mar 29, 2017

ALONDRA RUBALCABA: Spring break enjoyed at Six Flags

(Story)

Mar 13, 2017

MATIAS SAUCEDO: Grandpa inspires passion for guitar

(Story)

Feb 28, 2017

Sexual abuse on senior citizens is repulsive

(Story)

Feb 03, 2017

'Split' reaction for new horror flick with rather revealing trailer

(Story)

Jan 25, 2017

AIDAN DANFORTH: Fighting through the pain

(Story)

Dec 13, 2016

SERINA SIENG: Looking forward to Christmas break

(Story)

Nov 09, 2016

Williams achieves spike in passion through volleyball

(Photo)

Nov 03, 2016

VERONICA FLORES: Racing through first cross country season

(Story)

Oct 25, 2016

DESTINY ALLEN: Capturing The Design

(Story)

Oct 05, 2016

MARIELE JONES: Fought her way to the top

(Photo)

Sep 30, 2016

WEEKLY GALLERY: Diffusion lab

(Story/Photo)

Aug 25, 2016

PERLA GONZALEZ: Bracing herself for senior year

(Photo)

Mar 18, 2016

WEEKLY GALLERY: GDP students capture campus

(Photo)