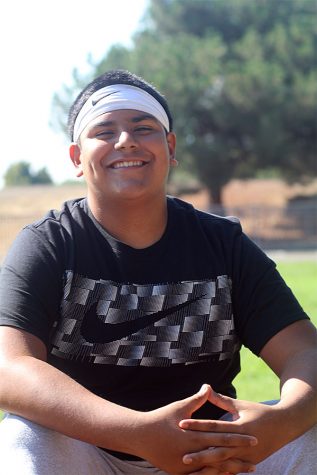 Position: 
Reporter
Nickname(s):
BigBoiFuente
Fun Fact: 
I'm pretty funny and a lot of people like to be around me.
Hobbies: 
Tennis
Why I joined journalism and what it means to me:
I joined journalism because I wanted because I wanted to play football for Stagg and I ended up not playing but I became more intrigued with the journalism program and now I'm in love.
Goals on staff and after high school:
I plan on going to Delta and pursue a career in law enforcement. And this year would be great if I got everything done on time and it was produced well.
Louis Fuentez, Reporter
Mar 31, 2017

WEEKLY GALLERY: First league swim meet

(Story)

Feb 03, 2017

WEEKLY GALLERY: Football players sign

(Story/Photo)

Dec 13, 2016

Dreams are attainable with hard work

(Story)

Sep 19, 2016

WEEKLY GALLERY: Homecoming Rally

(Story/Photo)

Sep 02, 2016

WEEKLY GALLERY: Back to School Night

(Story/Photo)

May 22, 2016

STAY OFF THE FIELD

(Story)

Apr 16, 2016

STAY OFF THE FIELD

(Story)

Mar 11, 2016

WEEKLY GALLERY: Playing in rain

(Story)

Mar 06, 2016

VOTERS FIND A CANDIDATE

(Story)

Feb 10, 2016

Cam Newton shouldn't be heavily criticized for interview

(Story/Photo)

Jan 29, 2016

WEEKLY GALLERY: Brain dissection in Anatomy and Physiology

(Story/Photo)

Nov 18, 2015

CHLOE AULD: Cheer brings sense of confidence

(Photo)

Sep 22, 2015

Meet your Homecoming King candidates

(Story/Video)

Sep 22, 2015

Meet your Homecoming Queen candidates

(Story/Video)

May 15, 2015

Fans remain after predictable fight

(Story)

May 14, 2015

Players before family

(Story)

Feb 10, 2015

Christy's passion for hockey leads to trip to Canada

(Story)

Jan 22, 2015

New assistant principal

(Video)

Nov 17, 2014

Sports teams give off wrong messages

(Story)

May 31, 2014

Grandfather and uncle spark his passion for golf

(Story)