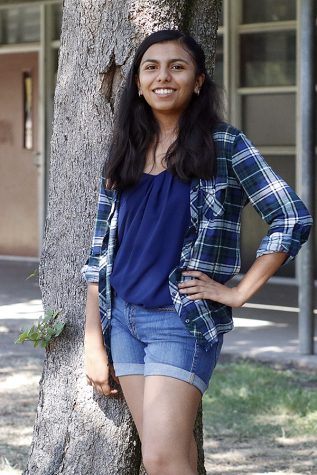 Position:
2017-2018 Entertainment Editor
Nickname(s):
Les
Fun Fact:
I love dogs, bread, and memes
Hobbies:
Reading, watching movies
Why I joined journalism and what it means to me:
I joined journalism because Stephanie recommended me and now I'm here. Journalism means finding stories around school and bringing news to the students.
Goals on staff and after high school:
My goals for staff are to improve my writing skills and contribute more to the web. My goals after high school are to become a doctor, but it'll be a while so before that get into a good college.
Leslie Coronado, Entertainment Editor
May 24, 2018

Anything but guns

(Story)

May 23, 2018

Lupe Valdez wins nomination for Governor in Texas

(Story)

May 23, 2018

Ignore climate science?

(Story)

May 23, 2018

North Korea threatens to cancel summit with U.S.

(Story)

Apr 13, 2018

MESA's work pays off

(Story/Media)

Mar 23, 2018

Protest in Sacramento

(Story)

Mar 23, 2018

Trade war between the U.S. and China

(Story)

Mar 22, 2018

Maryland school shooting

(Story)

Mar 08, 2018

LAMONTE WALKER: Practicing since he was young

(Story)

Mar 02, 2018
Jan 17, 2018

ESTEBAN RIVERA: Seniors help juniors to adjust to varsity

(Story)

Jan 05, 2018

Why women need more pockets

(Story)

Jan 05, 2018

Why we should pay attention to the Republican tax bill

(Story)

Jan 04, 2018

The importance of net neutrality

(Story)

Nov 09, 2017

IS TRUMP PRESIDENTIAL?

(Story)

Oct 06, 2017

What counts as a real catastrophe?

(Story)

Oct 06, 2017

Celebrities' actions make them a bad influence on teenagers

(Story)

Oct 02, 2017

It's not disrespect, it's protest

(Story)

Sep 02, 2017

Homecoming King Nominees for 2017

(Story)

Sep 02, 2017

Homecoming Queen Nominees for 2017

(Story)

Aug 24, 2017

TRESSA BROWN: Making it work with a broken hand

(Story)

May 15, 2017

Debt free college a good idea

(Story)

Mar 09, 2017

NPAI VANG: Trying something new becomes new found passion

(Story)

Feb 08, 2017

Muslim Ban doesn't reflect America

(Story)

Feb 03, 2017

Transgender politician sets new standards

(Story)

Sep 15, 2016

KAYLEE FETTERS: Serving up another win

(Story)