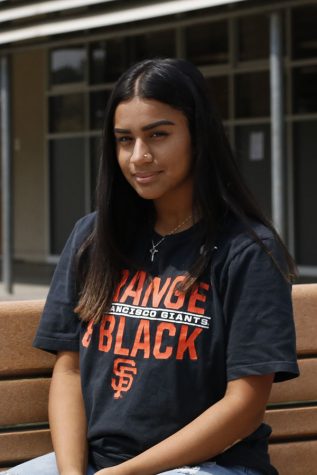 Name:
Krystena Elizabeth Meza
Position:
Reporter
Favorite Subject:
being a TA because the teacher gives me food oh and also AP Lang I love learning new thing.
Fun Fact:
A fun fact about me is when running the bases in softball going to second from first base there's a special type of slide I do which is called a hookslide which is when you slide your body on the outside of the base but only your hand/arm is around the base.
Favorite Movie and Song:
My favorite movie is A League of their Own, and my favorite song is Japanese Denim by Daniel Caesar.
Hobbies:
A hobby I enjoy is travel ball softball
What journalism means to me:
What journalism means to me is the writing of a newspaper but inside it means a way I can expand my knowledge by using my social skills to communicate with others in my writing.
Goals on staff and after high school:
My goals on staff after high school is getting something out of being apart of an ensemble of writers.  
Krystena Meza, Reporter
Apr 12, 2019

WEEKLY GALLERY: Inked teens

(Story/Media)

Apr 08, 2019

Freshman proves his worth on varsity

(Story)

Dec 21, 2018

WEEKLY GALLERY: AP Bio lab

(Story/Media)

Nov 14, 2018

ESTEBAN RIVERA: Longtime player cherishes final year

(Media)

Oct 19, 2018

WEEKLY GALLERY: Fall ball Stagg vs Tokay

(Story/Media)

Oct 05, 2018