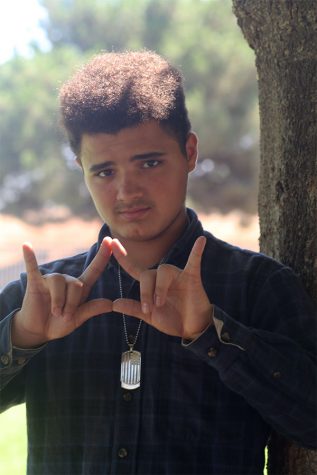 Position: 
Reporter
Nickname(s):
KG and Kev
Fun Fact: 
I love playing sports and I love space.
Hobbies: 
Football
Why I joined journalism and what it means to me:
I had no interest to join journalism until Mr.Bott recommended that I should, so I decided to join it because why not As the year progressed in Graphic Design & Photography I really got interested in it and was excited to be on the staff. Once we started to use the cameras it became certain to me that I wanted to be on the staff because I fell in love with taking photos and really wanted my photos to be posted on the weekly gallery so everyone else could enjoy my marvelous work. Journalism means to me that we make a newspaper and an online newspage, but it also means that we are curious minded people that want to know more about what's going on at Stagg and in the world.
Goals on staff and after high school:
My goals for staff are to do a weekly gallery and become a great and important member to the team. My main goal after high school is to go to Stanford and graduate from there. After that I would like to get a good paying job, but I haven't decided what job yet. I'll probably become an astronaut, an engineer, a stockbroker, a space engineer, or I might be good enough to play in the NFL by then, but as of right now I don't know what I really want to do after I graduate Stanford. I'll find out sooner or later.
Kevin Gutierrez, Reporter
May 15, 2017

Teammates take the lead in track

(Photo)

May 15, 2017

Chess tournament unifies students

(Photo)

Apr 28, 2017

WEEKLY GALLERY: Stagg track & field against Edison

(Story/Photo)

Apr 26, 2017

ISAAC GONZALEZ: Puts in the time to grind

(Story)

Apr 21, 2017

WEEKLY GALLERY: Temperature and equilibrium lab

(Photo)

Mar 11, 2017

WEEKLY GALLERY: Stagg's choir of 400

(Story/Photo)

Mar 03, 2017

WEEKLY GALLERY: French clases come together to celebrate Mardi Gras

(Story/Photo)

Feb 02, 2017

Basketball shoots for league title

(Story)

Jan 27, 2017

WEEKLY GALLERY: Basketball hall of fame

(Story/Photo)

Dec 02, 2016

WEEKLY GALLERY: Preseason boys basketball game brings the hype

(Photo)

Nov 10, 2016

'The Walking Dead' new season leaves fans shocked

(Story)

Sep 23, 2016

WEEKLY GALLERY: A close up on nature

(Story/Photo)

Mar 18, 2016

WEEKLY GALLERY: GDP students capture campus

(Photo)