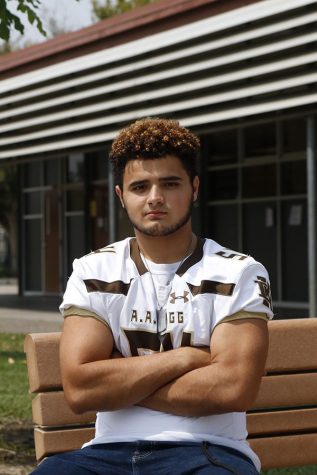 Name:
Kevin Gutierrez (KG)
Position:
Editor-In-Chief & Features Editor
Favorite Subject:
Math & Science
Fun Fact:
I play many sports and I absolutely LOVE space! Oh yeah and my friends say I'm the dumbest smart person they have ever met ¯\_(ツ)_/¯
Favorite Movie and Song:
Interstellar, Pursuit of Happyness, or The NeverEnding Story II. I don't have one specific song that I like, but it is based on how I am feeling.
Hobbies:
 Playing sports, working out, hang with friends, learning facts about space, and being cool
.
What journalism means to me:
I had no interest to join journalism until Mr.Bott recommended that I should, so I decided to join it because why not as the year progressed in Graphic Design & Photography I really got interested in it and was excited to be on the staff. Once we started to use the cameras it became certain to me that I wanted to be on the staff because I fell in love with taking photos and really wanted my photos to be posted on the weekly gallery so everyone else could enjoy my marvelous work. Journalism means to me that we make a newspaper and an online news page, but it also means that we are curious minded people that want to know more about what's going on at Stagg and in the world.
Goals on staff and after high school:
My goals for staff is to help my fellow members learn about photography and improve their skills in it and I want them to develop a sense of always wanting to be curious. I want Stagg and the world to enjoy my photos, and I also want to positively influence the lives of people I meet, in any way I can.
My main goal after high school is to go to a great college and graduate from there. After that I would like to get a good paying job, but I haven't decided what job yet. I'll probably become an astronaut, an engineer, a stockbroker, a space engineer, or I might be good enough to play in the NFL by then, but as of right now I don't know what I really want to do after I graduate from college. I'll find out sooner or later.
Kevin Gutierrez, Editor in Chief
May 13, 2019

Twitter provides better quality content

(Media)

May 10, 2019

Special Olympics a success

(Media)

May 07, 2019

Sibling rivalry yields on-court success

(Media)

Apr 05, 2019

Every 15 minutes

(Story/Media)

Apr 08, 2019
Apr 05, 2019

WEEKLY GALLERY: Abstract art with fine lines

(Story/Media)

Apr 05, 2019

Fatal consequences

(Media)

Mar 13, 2019

JANELLE PHARMS: Sibling inspires exploration

(Media)

Mar 07, 2019

Stagg holds an Every 15 Minutes presentation

(Media)

Mar 01, 2019
Feb 28, 2019

Resident Evil 2 Haunts

(Media)

Mar 01, 2019

MESA aims to prevail again

(Media)

Feb 27, 2019

MESA students prep for MESA day

(Story/Media)

Feb 27, 2019

KRISSI DOUGHTERY: Drama has promising expansion

(Story/Media)

Feb 15, 2019

WEEKLY GALLERY: Winter award banquet

(Story/Media)

Feb 04, 2019

Neglected Program seeks more funding

(Media)

Feb 01, 2019

New Year's resolutions lead to better health choices

(Media)

Feb 01, 2019

Neglected program seeks more funding

(Media)

Jan 23, 2019

We called chief, he said… These memes were it.

(Story)

Dec 19, 2018

XOCHILT JUAREZ: Plays for the emotions

(Story/Media)

Dec 18, 2018

Day of the Dead festival

(Story/Media)

Dec 14, 2018

Rewards given monthly will work better

(Media)

Dec 03, 2018

CIERRA BURDG: Thoughts on lit mag

(Story/Media)

Nov 16, 2018

WEEKLY GALLERY: Drama class puts on puppet shows

(Story/Media)

Nov 09, 2018

Free press no 'enemy,' should be valued

(Media)

Nov 09, 2018

ANDREW TOBLER: Veteran to newcomer

(Media)

Oct 05, 2018

College and scholarship applications pile up

(Media)

Oct 05, 2018
Oct 05, 2018

More than just fundraising

(Media)

Oct 05, 2018

Our music program deserves more recognition

(Media)

Oct 05, 2018

STAGG PRIDE INSIDE & OUTSIDE

(Media)

Sep 07, 2018

WEEKLY GALLERY: Stagg's beautiful scenery

(Story/Media)

Aug 31, 2018

WEEKLY GALLERY: Chemistry does Density of Water lab

(Story)

May 15, 2018

Summer blockbusters expected to bring hype

(Media)

May 04, 2018

WEEKLY GALLERY: Stagg students attend WACAC college fair

(Story/Media)

Apr 29, 2018

Immerse yourself into Ready Player One

(Story)

Apr 27, 2018

WEEKLY GALLERY: Select few perform at a SUSD board meeting

(Story/Media)

Mar 09, 2018

WEEKLY GALLERY: Auto tech works under the hood

(Story/Media)

Mar 02, 2018
Mar 02, 2018

AP classes worth challenge

(Media)

Feb 02, 2018

WEEKLY GALLERY: The beauty of Stagg's nature

(Story/Media)

Feb 02, 2018

WHAT'S ON YOUR PLATE?

(Media)

Jan 05, 2018

Math students become math teachers

(Story/Media)

Nov 09, 2017

Getting to kick down under

(Story)

Nov 09, 2017

WEEKLY GALLERY: Honors biology tries out the new stomata lab

(Story)

Nov 01, 2017

RYENN AGBULOS: Losing isn't a total loss

(Media)

Oct 06, 2017

Learning to play 'all around'

(Media)

Sep 22, 2017

WEEKLY GALLERY: Club Rush

(Story/Media)

Sep 15, 2017

WEEKLY GALLERY: Agricultural class first project

(Story/Media)

Sep 13, 2017

LUCAS NINCIONI: Keeping in shape

(Media)

Sep 02, 2017

Homecoming King Nominees for 2017

(Story)

Sep 02, 2017

Homecoming Queen Nominees for 2017

(Story)

May 15, 2017

Teammates take the lead in track

(Media)

May 15, 2017

Chess tournament unifies students

(Media)

Apr 28, 2017

WEEKLY GALLERY: Stagg track & field against Edison

(Story/Media)

Apr 26, 2017

ISAAC GONZALEZ: Puts in the time to grind

(Story)

Apr 21, 2017

WEEKLY GALLERY: Temperature and equilibrium lab

(Media)

Mar 11, 2017

WEEKLY GALLERY: Stagg's choir of 400

(Story/Media)

Mar 03, 2017

WEEKLY GALLERY: French clases come together to celebrate Mardi Gras

(Story/Media)

Feb 02, 2017

Basketball shoots for league title

(Story)

Jan 27, 2017

WEEKLY GALLERY: Basketball hall of fame

(Story/Media)

Dec 02, 2016

WEEKLY GALLERY: Preseason boys basketball game brings the hype

(Media)

Nov 10, 2016

'The Walking Dead' new season leaves fans shocked

(Story)

Sep 23, 2016

WEEKLY GALLERY: A close up on nature

(Story/Media)

Mar 18, 2016

WEEKLY GALLERY: GDP students capture campus

(Media)