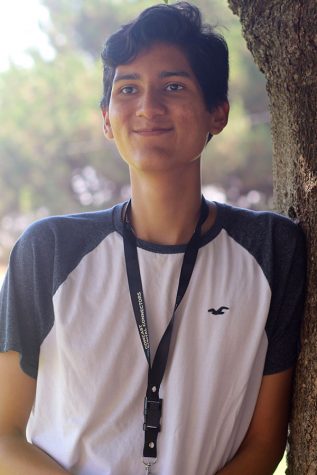 Position: 
2016-2017 Web Editor
Nickname(s):
Jeff
Fun Fact: 
I immigrated to the U.S.
Hobbies: 
Procrastinating. Crushing the patriarchy.
Why I joined journalism and what it means to me:
Journalism was recommended to me, and it has become a passion. A-8/10 is basically my second home.
Goals on staff and after high school:
 I want to improve the efficiency of content delivery in our social media accounts. Reach a broader audience and give the voiceless a voice. Also work on time management because some video projects have gone past the deadline. After high school, video production and web design have caught my eye. Just sayin'.
Jefferson Leiva, Web Editor
Apr 10, 2017

Change in leadership creates uncertainty with Healthy Start

(Story)

Apr 07, 2017

THANH LE: Stagg Brings Out Competitive Spirit

(Story)

Mar 09, 2017

Every 15 Minutes- Stagg 2017

(Story)

Feb 03, 2017

New leaders bring drastic changes

(Photo/Video)

Feb 03, 2017

Has the new schedule been effective?

(Story)

Jan 16, 2017

A Series of Unfortunate Events stays True to the Book Series

(Story)

Dec 11, 2016

CIA reports should be taken seriously

(Story)

Nov 10, 2016

Be Proud Be Responsible Offers Insight on Sexual Education

(Video)

Nov 01, 2016

Stockton's Mayoral Race

(Story)

Oct 07, 2016
Oct 07, 2016

Local events to enjoy

(Video)

Sep 29, 2016

2016-17 Homecoming Recap

(Story)

Sep 14, 2016

TO SERVE & PROTECT?

(Story)

Sep 13, 2016

2016 Homecoming King Candidates

(Story)

Sep 13, 2016

2016 Homecoming Queen Candidates

(Story)

Aug 31, 2016

COFFEE WITH THE POLICE: Silva on Engaging Citizens with Law Enforcement

(Story)

Aug 31, 2016

F Your Diet: House of Ice Cream Offers Deliciously Fattening Treats

(Story)

Aug 15, 2016

JOSHUA HUGHES: Pursuit of Choir Beyond High School

(Story)

May 28, 2016

SCHEDULE CHANGE: Students Affected

(Story)

May 13, 2016

A Future to Believe in Stockton

(Story)

Apr 17, 2016

Losing block schedule hinders performance

(Story)

Apr 15, 2016

Living on the Minimum

(Story)

Mar 29, 2016

Spirit Week: April 2016

(Story)

Mar 04, 2016

Teachers had to assimilate

(Story)

Mar 02, 2016

2015-2016 Eat Off

(Story)

Feb 01, 2016

Spirit Week: February 2016

(Story)

Jan 19, 2016

KAREN AGUILA: Unfazed by the rain

(Story)

Dec 07, 2015

UOP's Hispanic College Fair

(Story)

Nov 24, 2015

PUMPKIN SPICE HYPE

(Story)

Nov 01, 2015

Spirit Week: November 2015

(Story)

Oct 12, 2015

LUIS MORENO: Computer science drives his life

(Story)

Oct 06, 2015

2015-2016 Homecoming Recap

(Story)

Sep 22, 2015

Meet your Homecoming King candidates

(Story)

Sep 22, 2015

Meet your Homecoming Queen candidates

(Story)

Sep 18, 2015

All students entitled to free meals for years

(Story)

Aug 31, 2015

JUNIOR BARRAGAN: New school. New experience.

(Story)

Jan 30, 2015

Jefferson Leiva: see the photos

(Story)

Jan 30, 2015

Jefferson Leiva: read the story

(Story)

Jan 30, 2015

Jefferson Leiva documents his story

(Story)