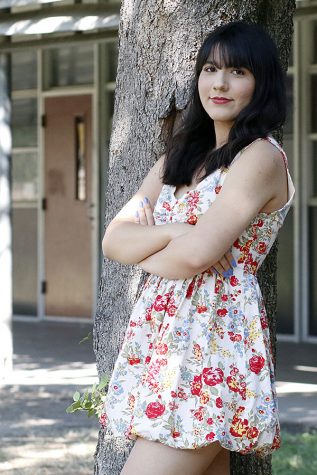 Position:
Reporter
Nickname(s):
All Star
Fun Fact:
I once got my foot ran over by a minivan while walking to school. It didn't hurt as much as you'd think it would.
Hobbies:
When I'm not at the cinema, breaking ankles on the court, nose deep in a book or performing on stage, you can usually find me plotting to bring down corporate America with Elliot Alderson.
Why I joined journalism and what it means to me:
I believe I was put in this world to write, create art, and tell stories. Journalism gives me the opportunity to do all of that. I live and breathe words. They are the beat of my heart and the pulse in my veins.
Goals on staff and after high school:
I strive to be a staff member others could rely on, produce high-quality work, and leave an everlasting mark on The Stagg Line. As for after I graduate, I have many aspirations - becoming a published author, filmmaking, showrunning, and sportscasting.
Hannah Workman, Reporter
May 18, 2018

Teenagers battle depression

(Story)

May 18, 2018

Cinco de Mayo fiesta

(Story)

May 11, 2018

WEEKLY GALLERY: In bloom

(Story/Media)

Apr 13, 2018

Strong on the mound and off

(Story)

Apr 13, 2018

Writers learn to express emotions with poetry

(Media)

Apr 13, 2018
Mar 31, 2018

No accountability, no trust in law enforcement

(Story)

Mar 30, 2018

Gender roles place limitations on children

(Story)

Mar 23, 2018

WEEKLY GALLERY: Taking the field

(Story/Media)

Mar 17, 2018

Flicks to pick for March 2018

(Story)

Feb 28, 2018

NPAI VANG: Picking up the racket one last time

(Story)

Feb 24, 2018

Ignorant students use walkout to their advantage

(Story)

Feb 17, 2018

Health care discrimination for transgender people must end

(Story)

Feb 16, 2018

Flicks to pick for February 2018

(Story)

Jan 22, 2018

Why arts education needs to be a priority in our schools

(Story)

Jan 21, 2018

The absurdity of marching for women's rights in 2018

(Story)

Jan 13, 2018

Flicks to pick for January 2018

(Story)

Jan 05, 2018

Public opinion can affect an individual's judgement

(Story)

Dec 31, 2017

Negative stereotypes often lead to misunderstanding of homelessness

(Story)

Dec 28, 2017

Balance has to be found between collective security and individual privacy

(Story)

Dec 17, 2017

Repealing net neutrality will threaten our democracy

(Story)

Dec 11, 2017

Flicks to pick for December 2017

(Story)

Dec 06, 2017

HEATHER DOUGHERTY: Veteran shoots for success

(Story)

Nov 26, 2017

Stone Temple Pilots return to form with 'Meadow'

(Story)

Nov 25, 2017

Students make the college applications process harder than it needs to be

(Story)

Nov 24, 2017

Thanksgiving isn't the only time to give thanks

(Story)

Nov 12, 2017

Mass shootings are no longer surprising

(Story)

Nov 09, 2017
Oct 20, 2017

'Blade Runner 2049' is exquisite, visually magnetic

(Story)

Oct 06, 2017

Accuracy in reporting should trump all else

(Story)

Oct 04, 2017

Oakland A's rookie becomes first MLB player to take a knee

(Story)

Sep 30, 2017

Award shows are no place for politics

(Story)

Sep 15, 2017

'It' floats to top of the box office

(Story)

Sep 02, 2017

Homecoming King Nominees for 2017

(Story)

Sep 02, 2017

Homecoming Queen Nominees for 2017

(Story)

May 15, 2017

Graphic scenes should be shown, not ignored

(Story)